Distance runner shoots for national competition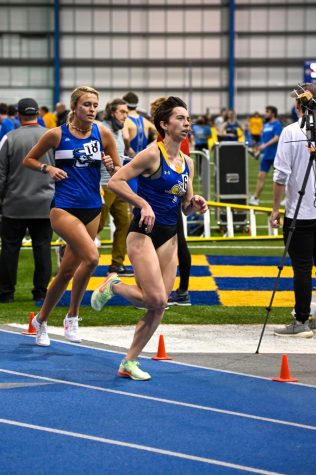 The South Dakota State University track team has high goals for the coming spring season, and senior distance runner Cailee Peterson figures to play a big role in the team's success.
The outdoor season starts Saturday, and Peterson hopes to do as well as she has in the previous seasons.
This past indoor season at the Summit League Championships, she got first in the mile with a time of 4:49.55 and second in the 3,000 meters with a time of 9:35.71, which is the third-best all-time mark for a South Dakota State athlete.
Peterson says she hopes to make it to the NCAA West Regionals this spring for the 1,500 meters.
"I'll have to work pretty hard to get a time that's fast enough … Only the top 48 athletes in each half of the United States make it to that competition for their event," she says.
Peterson also hopes to try some other races, like the 5,000 meters or 800 meters.
"I'd have pretty open goals for those races and it would really just be exciting to get some strong personal records," she said.
Peterson competed in the Summit League Indoor Championship in Grand Forks, North Dakota late last month.
When asked before the competition what her goals were for this meet, Peterson said, "I think that coming away with a title would be really cool." She also said that she wanted to improve on her mile time of 4:54.34 from last year's championship.
Peterson said that when it comes to preparing for big meets like this, her teammates usually calm her nerves. They have been good supporters and now that she's been here for five years, she has made some great relationships with them.
Teammate Abby Stadler says Peterson is everything you'd ask for in a teammate, "fun, supportive, determined and leads by example."
Other teammates described her as a friend and a role model.
Peterson not only competes on the track team at SDSU, but also the cross-country team. She is originally from Mayville, North Dakota, which is where she first started her track career. Peterson fell in love with track when she was in seventh grade and it's been a huge part of her life since.
Peterson also has a younger sister on the team and she says her sister has a lot of potential. Nora Peterson, a freshman, participates in the javelin throw and triple jump. Nora says having an older sister on the team has made her transition from high school to college easier.
"I love it, it's just like having a mentor," Nora said.
Track isn't Peterson's only interest. She also loves to be outdoors, which is why she chose wildlife and fisheries sciences and environmental sciences as her majors.
After graduation this spring, she is moving to Duluth, Minnesota, to work with native plant landscaping. She will be growing native plants and building native pollinator gardens for families and businesses.
She hopes to keep running in her daily life, even after graduation.
"I may not be able to run for the rest of my life, but running is what has driven me to who I am today, and I believe it will continue to drive me to be my best self in the future," Peterson said.