Paint with Bob Ross event open to students of all skill levels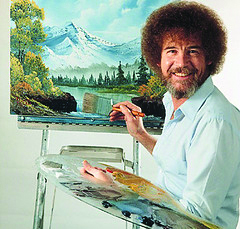 It's time to pick up your paint brushes, South Dakota State University students.
The Paint with Bob Ross event is from 7 to 9 p.m. Nov. 9 at the Volstorff Ballroom in the Student Union. Admission is free for students.
Students of all skill levels can expect to sit down at a table that has a canvas, paint and paint brushes set up for them. They will learn how to paint a winter landscape by following one of Ross' step-by-step videos. All students can take their paintings home with them when they are finished. 
Ross was the host of a television show called "The Joy of Painting," which aired on PBS from 1983 to 1994. The program would show Ross painting a picture, usually a landscape, with the artist giving instructions so the viewer could follow along and paint with him. 
Shay Gregoire, arts coordinator for the University Program Council, said the event is an opportunity for students to relax. For all of the students, we only ask for them to show up and have fun. 
"This event is for anyone who wants to paint, even if they aren't good at painting or have never tried it," Gregoire said. 
The event is popular because everyone knows Ross for his paintings, catch phrases like, "There's a happy little tree," and his pleasant personality, Gregoire said. She says there are many people who have always wanted to participate in an event like this. 
Ashton Simon, a graphic design major from Lebanon, South Dakota, is looking forward to the event. Simon is eager to see other people's projects. 
"I like creative events because it allows people to take time for themselves away from homework," Simon said. 
Zoe Ton, a communication studies major from Brookings, said she also is excited to attend the event with friends. 
"Events like this show me that SDSU has so many options and events that really can fit anyone's interests," Ton said. 
The event is so popular that in past sessions there was not enough materials for every student who attended. 
"This year we will be purchasing more, and hopefully we won't have to turn anyone away," Gregoire said. 
That said, supplies are still limited, so it is a good idea to arrive at the event early. All supplies are paid for by UPC. 
UPC currently is not planning for another painting event, but a future event is possible. 
If you go
What: Bob Ross painting event
When: 7 to 9 p.m. Nov. 9
Where: Volstorff Ballroom in the Student Union
Cost: Free to students