SDSU Foundation raised record-breaking $73 million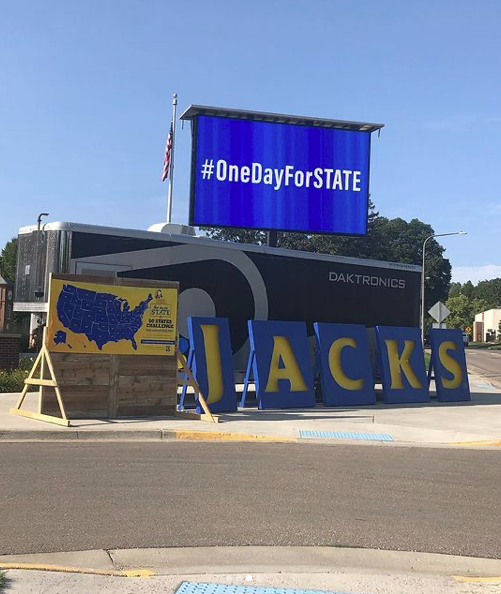 The South Dakota State University Foundation had a record-breaking year for donations raised in 2020, receiving over $73 million in donations.
This is roughly $10 million more than the previous record for money raised in a year, set in 2013. Over 10,000 people donated last year overall.
Foundation President and CEO Steve Erpenbach said he was amazed, but not necessarily surprised.
"I think it really does speak to the loyalty of donors that we have, and that's alumni, friends, corporate partners," he said. "I think, frankly, they saw the need. They knew that there was a need to respond to help students and others, and they certainly showed that."
Campus projects and student scholarships are both set to receive some of this money. Some larger donations helped with the construction of the Raven Precision Agriculture Center, American Indian Student Center and The Oscar Larson Performing Arts Center.
"A lot of people responded," Erpenbach said. "The big gifts are really important, but it's just as important that we have a lot of people giving and that we're able to reach people throughout the country that want to give back to South Dakota State, whether it's $100 or $1 million, all of it's important to us."
The Jackrabbit Scholarship Auction also set a new record with over $1.7 million raised, which was multiplied by a two-to-one match from an anonymous donor.
The total included $1.15 million for athletic scholarships, $372,000 for Feeding South Dakota and $207,000 for high-need scholarships.
The "One Day for State" fundraising event brought in over $1.6 million, and that total was not contributed by only alumni.
"We did have 484 current students at SDSU give back to their university, and so that was really cool to see," graduate assistant Danielle Gottsleben said. "Students still give back to the university that they pay to go to as well and that shows how impactful SDSU is."
But that reach extends far beyond SDSU's campus.
"We raised donations from all 50 states, which we've never done before either, so we made history there, and then we had record breaking dollars and donors. It was a really successful year," Gottsleben said.
Erpenbach attributes the record number of donations to the cause and memories associated with the donation events.
"That's the day where people kind of get reconnected, they feel they can be a part of something big and almost 5,000 donors in a single day, which again is just remarkable," Erpenbach said. "It's the power of social media, but it's also the power of this place, how people have such a strong affinity for their experience at South Dakota State."
Gottsleben, who is administrative assistant in loyalty giving for the SDSU Foundation, says part of her job is managing the Jackrabbits Philanthropy Center.
"There is still a wide range of donors who still look forward to that call from the students, because they get to hear about what life is like on campus since they've left, and especially due to the pandemic, a lot of these alumni can't get back to SDSU and see what's going on here, so talking with the students is a good first-hand approach to hear about what's going on here," Gottsleben said.
The call center attributed a little under $300,000 to the total donation amount last year.
"It's awesome to see, especially working for this organization, you see the impact that it truly makes for these students and the university," Gottsleben said. "Just seeing it firsthand and being able to work for the place here at SDSU that helps raise those funds, it's really amazing to be a part of it."