Greek Life plans to continue efforts for in-person events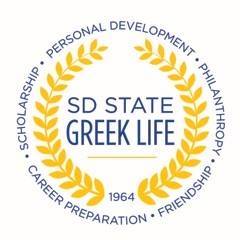 Greek Life Organizations (GLOs) have faced a lot of uncertainty in the last year, especially when it comes to recruitment efforts. With almost four percent of students on campus being a part of Greek Life, many students have been impacted by the changes made since last March.
Over the last year, fraternities and sororities have had to change the way that they run almost every aspect of their chapters. Events such as recruitment, socials, meetings and philanthropy fundraisers were moved online or became more restricted by the COVID-19 guidelines in Brookings and the university.
According to Sophia Harris, the Chi Omega chapter president, GLOs have had to change their recruitment methods due to the pandemic and have moved to a more active approach with social media.
"We couldn't have the Student Engagement Expo last semester; it was virtual, which was hard because no one came," Harris says. "The way that most of our sororities and fraternities market is at the Student Engagement Expo. It was hard with it being virtual, no one wanted to come talk to us alone in a breakout room."
Harris also said that the recruitment numbers this year are lower; however, that may not be the case for some fraternities.
"I don't think we saw a dip," said Logan Wolf, the chapter president of Sigma Alpha Epsilon. "In some cases, we saw an increase. I think that could be the student body or certain students wanting to be a part of something social off campus."
With restrictions on social gatherings, it has been difficult for some of these GLOs to make and maintain relationships with members, both internally and with other organizations on campus.
To make things feel a little more normal this semester, they are trying to increase the number of in-person social events.
"Social sororities and fraternities, it's in the name," Katie Yunker, the Greek Life advisor, said. "Many of the events are built on humans interacting with humans in the physical world. So, to just turn that off is just so hard. These chapters have had to sit back and rethink, 'how do we take all of those little moments that made this organization special and make them COVID safe?'"
Yunker mentioned the organization Fired Up, whose mission is to help sororities and fraternities grow. Many of the GLO chapters on campus are teaming up with Fired Up to "reboot" their organizations after the pandemic ends to get members interested once again.
One of the major Greek social events, Greek Week, is coming up in April. It is a week in which members from each of the sorority and fraternity chapters compete in events that range from "air band" to capture the flag.
There is usually a large turnout of members in support at these events. Despite the restrictions, these events will still be in person and on campus.
Greek Week Schedule:
Monday, April 12- Greek God and Goddess, 7 p.m., Sylvan Theatre

Tuesday, April 13- Airband, 7 p.m., Sylvan Theatre

Wednesday, April 14- Capture the Flag, 7 p.m., Jackrabbit Green

Thursday, April 15- Movie Night and Awards, 7 p.m., location pending