Brookings City Council to vote on new COVID-19 restrictions
The Brookings City Council will meet at 7 p.m. on Wednesday, Sept. 2 in a special session to discuss and vote on a variety of new COVID-19 related restrictions. 
Possible restrictions include: 
Limiting residential gatherings to 10 people. 

Limiting hours of bars and restaurants to 10 p.m. on Thursdays, Fridays and Saturdays.

Limiting the sale of alcohol to 10 p.m. on Thursdays, Fridays and Saturdays.

Requiring masks in public where social distancing is not possible.
"Brookings COVID numbers have increased dramatically over the past week. The guiding metrics have all been triggered with the exception of hospitalization," read the Brookings City Council memo drafted by Brookings City Manager Paul Briseno. "Additional regulations are needed to mitigate the increase in cases."
South Dakota State University President Barry Dunn has expressed his concerns about students' behavior off campus. 
"I drove around Friday and Saturday night and felt absolutely helpless. I was very disappointed in the behavior of a few that put us all at risk," Dunn said during a Students' Association meeting last week.
The potential restrictions have been met with some pushback from students and community members. 
"I believe that many SDSU students would travel to surrounding areas, such as Sioux Falls and Vermillion, if they are not allowed to purchase alcohol after 10 p.m.," said SDSU student Cassidy Bridges on the City Council's public eComment section of the agenda. "This would cause an even greater rise in COVID numbers, as students would be interacting with people they would not normally see."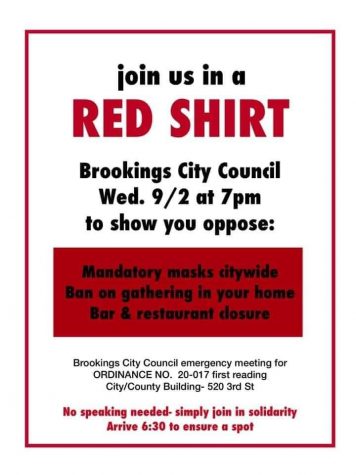 This graphic has begun circulating on social media calling for individuals who do not agree with the restrictions to attend Wednesday's meeting wearing the color red. 
The Collegian will be covering the meeting live. Follow @collegian_live for updates.