Humor and the Hardwood: Behind the scenes of "Jump Shots with Jewett"
During the 1970s and 80s, Julius Erving, affectionately nicknamed Dr. J, became a basketball icon by captivating audiences with high-flying acrobatics and flashy dunks.
Now, more than three decades removed from Erving's last NBA game, there's a fresh basketball personality known by the classic Dr. J moniker. But it's jump shots, not dunks, that distinguish this new-age Dr. J from the original.
"Jump Shots with Jewett" aka "Jump Shots with Dr. J," is a rapid-fire question and answer video series hosted by Mike Jewett, the associate head coach of the South Dakota State University women's basketball program. Each episode features Jewett, who has spent the past eight years on head coach Aaron Johnston's staff, posing fun, individualized questions to guests from across the university.
What originally started as a way for the program's social media followers to get acquainted with the student-athletes and coaching staff of Jackrabbit women's basketball, has blossomed into a large-scale project that's stretched to all corners of the Athletics Department and beyond.
"Obviously we want people to be excited about what we're doing, and it's easy cross-promotion," explained Tyler Merriam, SDSU's associate athletic director for media and primary videographer for the series. "… We are so much more of a family — a lot of bigger schools you go to, each sport is its own individual area. That's not really how we operate. Everybody knows everybody, and it's a team effort. The neat thing is we can promote that."
Early episodes posted to the team's Twitter got 2,000-3,000 views, but as the show has gained a dedicated viewer base, those numbers have steadily increased, with view counts on episodes toward the end of the season exceeding 7,000, and that doesn't take into account views on other platforms such as Instagram or YouTube.
"When you get the president and the athletic director volunteering to be in an episode, that doesn't happen with a lot of things," Merriam said. "(Director of Athletics) Justin (Sell) is so supportive of us getting our word out. President (Barry) Dunn is supportive. Obviously, if AJ (head women's coach Aaron Johnston) isn't supportive of this, none of this happens. … So you have to have people in the right places who are willing to let us do some of these things."
Making JSWJ
While students enjoyed a day off from classes on Presidents' Day, Jewett, Merriam and Kristin Rotert, the women's basketball director of operations, were creating content for "Jump Shots with Jewett."
For that particular episode, Jewett's guests included head wrestling coach Damion Hahn and three Jackrabbit wrestlers, but it was apparent early on where the series has grown the most since its inception.
"You look at the first couple, they were like two and a half minutes long," Jewett recalled. "Now, as we've become more creative, the intros have become more elaborate and it's grown. We've been lucky that people have enjoyed them."
For the wrestling episode, Jewett brings his four guests for the Q&A portion and special guest Cody Caldwell, a former Jackrabbit wrestler and current assistant coach, to the wrestling room tucked at ground level along the east end of Frost Arena. Here, Jewett runs Caldwell, Hahn and the wrestlers through his concept for the introductory sequence.
Jewett and Caldwell meet in the circle for a practice bout in which Jewett wins by pinfall. The theatrical sequence completed with post-match interviews.
"He's got a little performer in him and he is OK with making fun of himself," Merriam said of Jewett. "To do this project, you have to be that way. You can't be stuck-up, you can't be full of yourself, you can't be unwilling to look goofy at times."
Added Rotert: "When it comes to getting people to do dumb things on camera he can be very convincing."
While each intro has become its own unique mini-project, they share one thing in common, according to the three-person team behind the video series. The intros are mostly Jewett's own creation with occasional input from Merriam and Rotert.
For such a fun, lighthearted production, there's surprisingly little improvisation. At its most basic level, the production of "Jump Shots with Jewett" resembles the structure of women's team's defense — fittingly, one of Jewett's main areas of responsibility within the program. 
Besides the involvement of Jewett and Rotert, there wouldn't appear to be many similarities between the Q&A social media video series and the typically stout defense the SDSU women play with stunning consistency season after season.
Consider, though, that for both there's always a plan. The combination of Jewett, Merriam and Rotert smooth out the large details and logistical issues well before Merriam starts recording, and there's room to adjust should the situation call for it.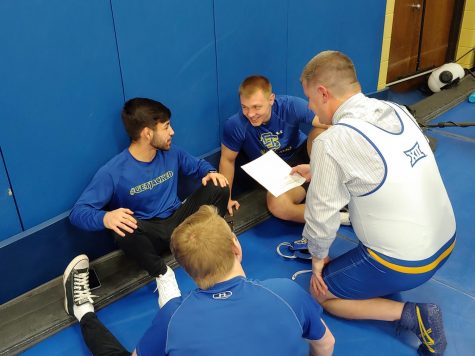 Becoming Dr. J
By Jewett's own admission, he has a witty, sometimes sarcastic, brand of humor. That strength, coupled with a fun-loving attitude, places him in a unique position to build his Dr. J persona.
To those who know him best, that persona isn't a persona at all.
"I'm a wise guy, I consider myself pretty witty," Jewett said. "I enjoy that in my everyday life and so that part of me is the same. It might even be toned down as Dr. J.
"To the people who really know me, they're like, 'Oh yeah, this is just the way he is,'" Jewett continued. "Others that might just come to a game and see me sit quietly might say something to my wife like, 'Oh, I didn't even know your husband talked, let alone was funny.'"
The comedic act is heightened by the on-camera wardrobe choices, which features Jewett in an untucked button-down dress shirt, a Jackrabbit tie, shorts and tennis shoes with occasional sport-specific garb.
Referring to the unique style with a wide grin, Merriam joked, "The talents dress themselves, and that's a term we use very loosely."
Though he doesn't have to worry about jumping in and out of character, and the show is playful by nature, Jewett takes what he does seriously, often using his many connections to get insider information on his many guests in order to formulate insightful, individualized questions. 
"Mike knows everybody," Merriam said. "Mike is a people-person and a genuine, down-to-earth, fun-loving guy, and he's a South Dakotan born and bred, so he knows everybody. You go up and name a name to him and if he doesn't know that person, he knows somebody from that town that babysat for that kid. He's got connections."
The effect brought on by learning about the guests beforehand is immediately noticeable. No matter how ordinary a question may seem, nearly all have some hidden story, which often brings a smile to the guest's face or evokes a chuckle before eliciting an answer.
Those unique interactions with student-athletes are what Jewett enjoys most about the project.
"You might go watch them play soccer, watch them on the wrestling mat or on the football field," Jewett said. "You know who they are, but then you get to spend 45 minutes to an hour with them and you get to see their sense of humor, how they respond to different things and how they interact with people."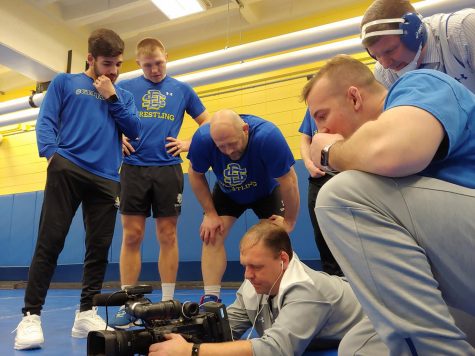 Coming soon to a web browser near you
Just as basketball will eventually return, so too will "Jump Shots with Jewett."
"We're going to have to get back in the creative room and do some brainstorming for season two because we've set the bar pretty high," Rotert said. "We're going to have to keep [the plan] a secret for now, mainly because we don't have a plan, but we will by next fall. I think we'll have something — season two, a spinoff, something. … As long as the people are loving it and the fans enjoy it, we'll keep it going."
The series already sparked one such "spinoff." "Journeys with Jewett," aka "Vlogging with Lindsey," is a series centered around the women's program during some of the longer trips on their road schedule and primarily features guard Lindsey Theuninck recording the team's experiences.
What's clear is there's no lack of creativity in the women's basketball locker room, and while the program is already known for setting itself apart on the court, its found a way to distinguish itself from peer programs beyond the court as well.
"I've never been involved with anything quite like this," Merriam said. "There are definitely some things that in traditional releases of videos you wouldn't do. We have some fun with this, we let our guard down. … It's something different by design."