Oscars highlight diversity, "Parasite" sweeps major awards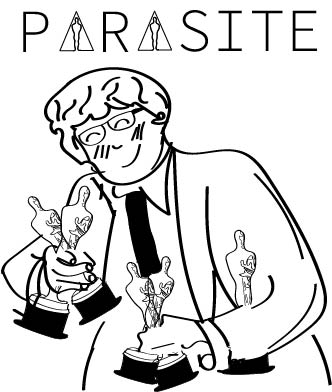 As many movie-buffs and general enjoyers of entertainment know, the 92nd Academy Awards was hosted Sunday, Feb. 9. It was an eventful evening of performances, diversity, no particular host and some extremely wealthy people.
If that's not your thing, or you're a student drowning in work with better stuff to do, here's what went down.
Let's start with the red carpet fashion.
Some standouts were Billy Porter, donning a gold dress designed by Giles Deacon, inspired by royalty and made with real gold.
Another favorite was Janelle Monae in a silver, hooded gown made of 168,000 crystals.
The overarching theme of the Oscars seemed to be record-breaking progress in diversity.
The Academy did face backlash for not including any female directors, however, this can still be seen as a standout night for diverse cinema.
"Hair Love" is a story about an African American family and the cultural significance of natural hair through a child's eyes. The short film went from a small kick-starter to an Oscar winner. Producers Mathew A. Cherry and Karen Rupert Toliver dedicated the award to inclusivity.
"We have a firm belief that representation matters deeply," Toliver said.
This message was echoed as Idina Menzel sang "Into the Unknown" from "Frozen 2" along with singers of 10 different languages. Each of the nominated musical themes were conducted by Eimear Noone, the Oscars' first female conductor ever.
The stand-out moment of the night was the South Korean film, "Parasite."
"Parasite" swept four major categories, including best picture, the first non-English film to ever be nominated.
"I feel like a very opportune moment in history is happening right now," said co-producer, Kwak Sin Ae through interpreter Sharon Choi.
This appeared to be true as "Parasite" director Bong Joon Ho spoke about breaking barriers.
"Once you overcome the 1-inch-tall barriers of subtitles, you will be introduced to so many more amazing films," Bong said at the 2019 Golden Globes.
Though there is still work to be done, this Oscar season took one step closer to making the celebration of diversity in film a norm. 
They even renamed the category "Foreign Film" to "International Film," suggesting that films from around the world are not all that foreign to us anymore. 
Whether it was a man wearing a dress, a small project about representation blowing up or breaking barriers about what is considered a foreign film, the 92nd Academy Awards made history.