Super Bowl LIV predictions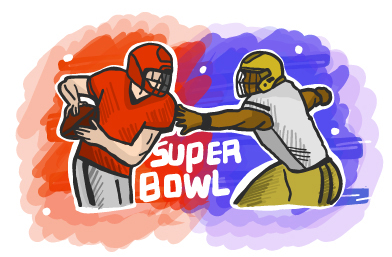 Super Bowl LIV (54) is just around the corner as the San Francisco 49ers square off with the Kansas City Chiefs at 5:30 p.m. Sunday, Feb. 2, in Miami.   
With the biggest event on the sporting calendar nearly upon us, members of The Collegian staff and a guest picker from the campus community made their predictions.
JOHN STIEGELMEIER
SDSU head football coach
The pick: 49ers
"I'm not really an NFL guy. I picked them because their QB, Jimmy Garoppolo, was Eastern Illinois' QB in 2012 when we beat them 58-10 in the FCS playoffs. Game planning against him was hard. He's obviously a special talent."
EMILY SEATON
Managing Editor
The pick: 31-24, 49ers
"I think the Chiefs' run defense will give before the 49ers' pass defense gives (that's what my boyfriend told me to say this)."
LANDON DIERKS
Sports Editor
The pick: 30-27, Chiefs
"San Fran is the more balanced team, but I think Kansas City's offensive firepower will test the 49ers' normally staunch defense. I expect both sides to be able to move the ball all night long, but in what should be a tight game I lean toward the team with the better QB — Patrick Mahomes and KC in a close one."
CARSON HERBERT
Sports Reporter
The pick: 27-21, 49ers
"I think San Francisco will have to stop another Kansas City comeback, but the 49ers don't have very many weaknesses. A smart quarterback, reliable weapons on offense and the best pass rush in the league all will help them in Miami."
FRANKIE HERRERA
Photo Chief
The pick: 30-7, 49ers
"I feel it in my bones. The 49ers will get their sixth Super Bowl victory."
J. MICHAEL BERTSCH
News & Lifestyles Editor
The pick: Go Chiefs!
"Honestly, I just hope both teams have a good time. But if we're putting money on it, I'd probably say Kansas City. I've got a buddy who lives there."
JORDON SHOENROCK
Sports Reporter
The pick: 34-24 Chiefs
"I think the KC offense will be too much for the 49ers' defense."
CARTER SCHMIDT
Sports Reporter
The pick: 21-17, 49ers
"My sister is a 49ers fan, so family comes first."
VICTORIA BERNDT
Sports Reporter
The pick: 28-21, 49ers
"The 49ers' defense is better and Jimmy Garoppolo is better than everyone thinks. He doesn't have to throw it a lot to win games, but if he has to, he's able (this is what Bradley Miller told me to say)."