Jacks sweep ORU doubleheader
Fresh off a trip to Omaha to close 2019 last weekend, the 2020 South Dakota State basketball calendar tipped off with a doubleheader against Oral Roberts Thursday night at Frost Arena.
In the women's contest, it was truly a tale of two halves.
Through two quarters, the shorthanded Jackrabbits (10-6) trailed the Golden Eagles (5-9) by seven and looked bothered at times by ORU's defense.
"Offensively, I thought we were just a little rushed," said SDSU coach Aaron Johnston. "They did a nice job doubling and helping in the post in the first half — everything we did was sped up, we didn't look comfortable."
But the third quarter was all blue and gold.
SDSU went on a 9-2 run to tie the game at 33, but the Jackrabbit outburst didn't stop there.
ORU endured a near six-minute scoreless stretch that bled from the third into the fourth quarter during which the visitors watched a 35-35 tie devolve into a 46-35 deficit.
"It started with our defense," said senior guard Rylie Cascio Jensen. "We definitely weren't sticking to our gameplan in the first half. Then in the second half, we got up on shooters, pushed the ball in transition and were able to knock down shots that we didn't in the first half."
The Jacks rode their third-quarter momentum to a 58-44 win, led by Paiton Burckhard's 17 points and eight rebounds. Tagyn Larson added 11 points, eight rebounds and six assists while Megan Bultsma came off the bench to chip in 10 points and was a general bother to ORU with her size inside.
Thursday night's win came without three normal contributors seeing the floor for SDSU. After the game, Johnston gave the following update:
Junior Myah Selland will continue to miss significant time as she recovers from a foot injury. Johnston said she simply "isn't ready to come back."

Freshman Tori Nelson was injured during practice earlier in the week and while it's not expected to be serious, her status for Saturday's contest with Western Illinois is unknown.

Kallie Theisen injured her knee in the nonconference finale at Green Bay and will miss the rest of the season with the injury.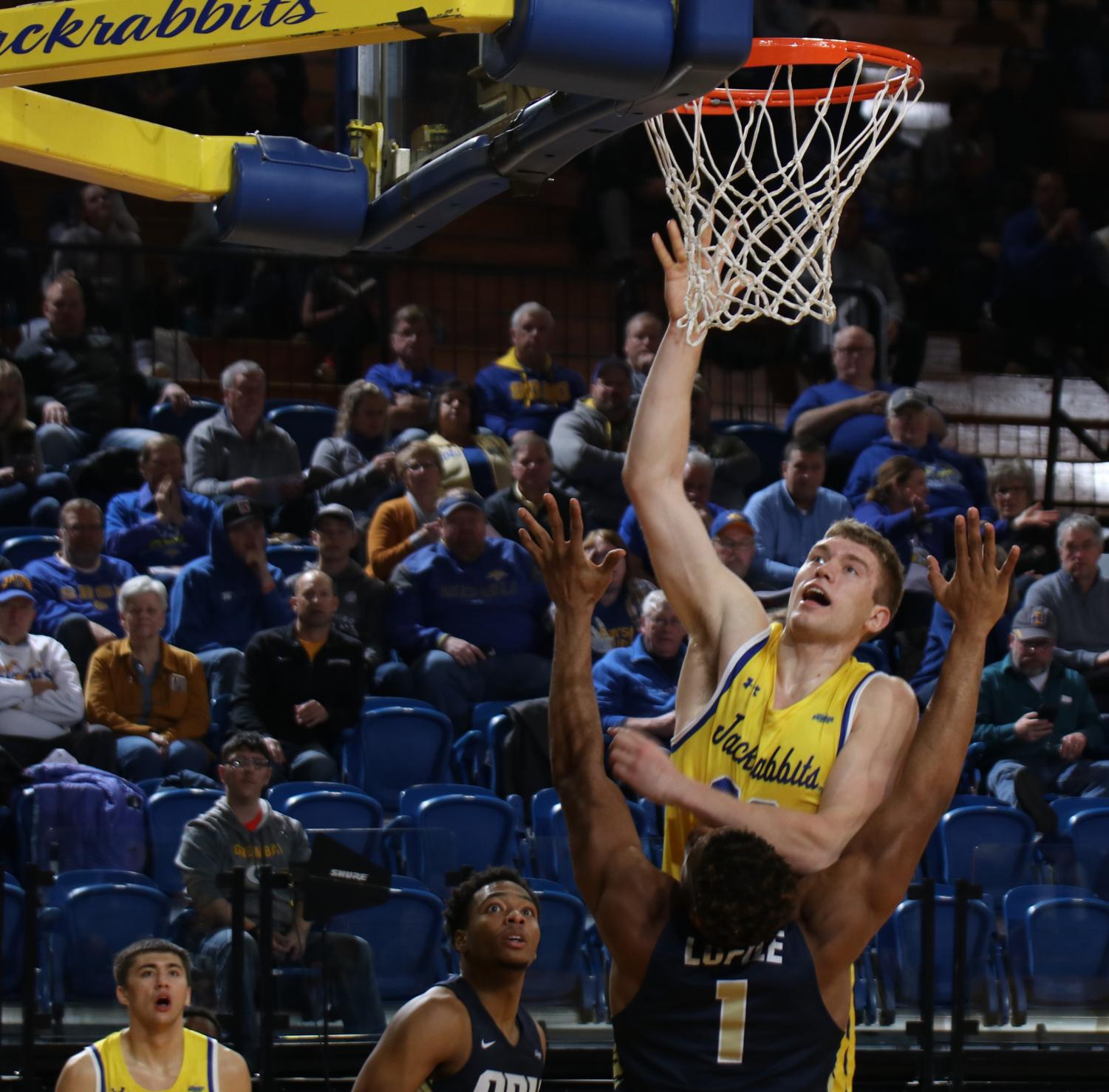 The evening's second contest was a bit more one-sided from the jump.
SDSU (10-7) pummeled the Golden Eagles (7-7) inside in the first half, outscoring the visitors 34-6 in points coming inside the paint on their way to a commanding 45-27 halftime advantage.
All told, SDSU's paint advantage was 60-28 and the Jacks shot better than 62% from the field.
"I'm not sure I knew it was going to be like that," SDSU coach Eric Henderson said of the dominance around the rim. "But Doug and Matt are big-time weapons down there, and teams have to make a tough choice — especially if we continue to shoot the basketball the way we are. … I'm just proud of how they finished and how consistent and persistent our guys were throwing the ball inside."
In the second half, ORU put together a flurry of offense early including a 7-for-9 start from 3-point range, but was unable to draw any closer than seven points.
Noah Freidel was a big reason why.
The freshman scored 17 of his 23 points after the break, leading the Jacks to a 96-79 win.
But Freidel wasn't the only Jackrabbit with a good night on the offensive end.
Douglas Wilson scored a game-high 25 points and added 10 rebounds for a double-double. Matt Dentlinger and Alex Arians also reached double figures in scoring, adding 18 and 17 points, respectively.
The Golden Eagles also had a quartet of double-digit scorers, but it wasn't enough to keep pace.
The men are experiencing some injury troubles of their own, as guards Brandon Key and Tray Buchanan did not play Thursday, and Henderson gave the following update:
Key will not play Saturday, but Henderson is hopeful to get his starting point guard back soon.

Buchanan will likely be out several weeks with a foot injury.
It's a short turnaround for both Jackrabbit teams, as Western Illinois comes to Brookings for a Saturday afternoon doubleheader. Opening tip of the women's game is scheduled for 2 p.m., with the men's game to follow.