Adopt a 'grandparent' through SDSU's new club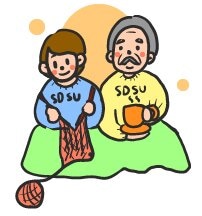 When Keri Pappas decided to volunteer at a nursing home in her small hometown of Groton, South Dakota, she didn't expect the impact it would have on her.
Over the summer of 2016, Pappas was paired with a resident with memory issues. She visited her resident once a week, spending hours chatting and crafting.
The pair became close, but her visits came to an end when school started that fall.
Pappas was determined to spend one more summer in the program, despite the possibility of her resident not remembering her.
"The staff had told me 'they're not going to remember you, you were here so many months ago and only here for a summer,'" Pappas said. "But, (my resident) remembered me. Someone who maybe can't remember what they ate the day before, remembered my name."
Pappas realized how impactful that summer was for her resident and came to SDSU in search of a similar program.
She couldn't find one.
As a freshman, Pappas and her roommate, Sophie McKee, considered starting a new student organization like the program Pappas volunteered for in Groton. Over the next year, they found the resources and courage to begin a new club on campus.
"We really wanted to look at what the community needed, as well as something that could benefit our students," McKee said. "We saw an underserved population and we wanted to give back our time to them and to the community, as well as promote service."
Two years later, SDSU now offers an opportunity for students to volunteer through the Adopt-a-Grandparent Club.
"When I heard about this, I couldn't say no," said Kylie Barington, a senior who joined the club this fall.
The Adopt-a-Grandparent Club went through the approval process last spring with "support from everyone along the way," said Assistant Director for Student Activities Kate Stock, who oversees the student organization recognition process.
"They came in initially with their idea, and I thought 'this is a really cool idea,'" Stock said. "I was excited to help them move forward."
Pappas and McKee quickly found an adviser, Katelyn Romsa, and started brainstorming ideas for what they wanted the club to look like. The two reached out to local nursing homes to partner with the program.
"I emailed three of the nursing homes in the community and The Neighborhoods at Brookview was the only one to email back," said McKee, who now is the club's vice president.
Seven months after being approved, the club has 22 members, ranging from freshmen to seniors with majors from nursing to architecture to criminal justice, Pappas said, who serves as the club president.
While only one member has been matched with a resident, the rest of the members will be matched by Thanksgiving break.
Many more are excited to become a part of the residents' lives.
"My grandma had Alzheimer's disease and my family made sure to visit her, and it made a big impact," said Anna Poull, a freshman member majoring in animal science. "I want to provide that for other people."
Aside from meeting with their grandparents for an hour a week, members can participate in large group activities, Pappas said. So far, members decorated The Neighborhoods for Hobo Day and Halloween and helped during trick-or-treating at the nursing home.
The Adopt-a-Grandparent Club officers are also planning events to celebrate Thanksgiving and Christmas at The Neighborhoods.
"We've heard making gingerbread houses is a big hit," Pappas said. "The residents will typically eat the gingerbread parts before they're a house, but that's OK – we'll just buy extra."
The members aren't the only ones excited for this program to be offered on campus.
"When I first started here 13 years ago, we couldn't even get college kids to come here," said The Neighborhoods Activities Director Amanda Uecker, who is enthusiastic about the new club.
Uecker works alongside activities advisor Jessie Kuechenmeister and both think the program will provide a new level of fulfillment for residents at The Neighborhoods. "We have people here that want someone to accept them as a grandparent and have somebody to spend time with," Kuechenmeister said.
Kuechenmeister and Uecker worked closely with Pappas and McKee over the past year drafting the constitution and bylaws for the club, planning the details for HIPAA training and matching the members with their residents through a questionnaire.
Kuechenmeister said she is working on matching members with a resident and knows it won't be long before they see how the program is enhancing the residents' lives.
Pappas said she, too, can't wait to see the impacts members have on residents and encourages everyone who is interested to reach out to her and come to a large group activity.
"This is such a powerful need in the community and has the potential to have so much benefit on both the student and the resident sides," Pappas said. "It's extremely easy and extremely rewarding."