Student tailgating sees revival at SDSU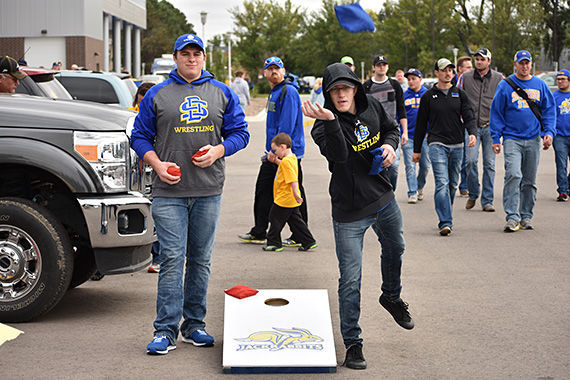 ESPN College GameDay's visit to campus brought about a flurry of last-minute planning and decision making by many in the University. One of which was the decision by SA Financing Chair Jesse Carlson to bring a live band to student tailgating. 
"This was just a huge opportunity to give something back to the students this year," Carlson said. "No matter what the cost, I will make it work."
The band, Whiskey Rich, cost around $2,000 with a stage cost of roughly $690, according to Carlson. The rates for the event were increased due to the short notice. 
The SDSU Foundation allocated $1,000 to SA last year for the purpose of tailgating. That money was utilized for the live entertainment. Carlson raised $1,265 through individual donors, a GoFundMe page and a Venmo campaign, leaving $425 yet to be raised. 
"We have never had anything like this happen before," Carlson said. "With the time restriction, last minute, I pulled the trigger and I collect my dues later."
Carlson said the SA funds were used with the permission of President Allyson Monson and Vice President Corey Berscheit.
"I will eat the funds if necessary, but I believe in my ability to fundraise," Carlson said, confirming that Students' Association funds will not be used to pay for the remaining balance. 
Student tailgating has seen a resurgence over the past year due primarily to efforts by Carlson. Transitioning into next year, Carlson would like to see this become an event put on by students through a tailgating club rather than the Students' Association. 
"This is everyone's tailgate," Carlson said. "I don't want this to be an SA responsibility forever." 
Carlson said a separate tailgate near the student entrance is a significant opportunity for students to have their own fun. 
According to the SA website, student tailgate opens five hours prior to kick-off and students may consume alcohol (other than liquor) with a wrist band. 
Carlson mentioned that the student tailgating area being in the grass is the perfect location because it allows students to play beer darts and other activities.
A student tailgate area is a safe environment with law enforcement and EMTs on site. 
"The cops are here to help us," Carlson said. "They don't want to ruin anyone's time. They just want to make sure everyone is having a good and safe time."