South Dakota State graduate Thomas Loveland honored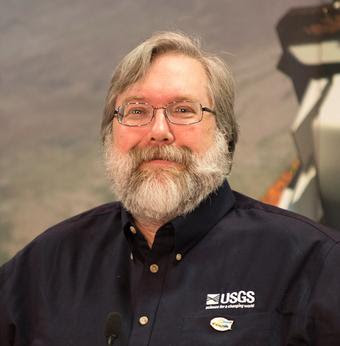 Thomas R. Loveland has been honored for outstanding contributions to earth science as a leading scientist for the U.S. Geological Survey and as chief scientist at the USGS Earth Resources Observation and Science Center. NASA's Terra team has been recognized for significant contributions in all areas of earth science, with scientific impacts and a legacy that make it one of the most successful missions in the long line of earth observing system satellites.
Sponsored by the USGS and NASA, the annual award has been presented since 1974 and honors the memory of William T. Pecora, former USGS director and Department of the Interior undersecretary. The formal presentation to the 2019 Pecora Award recipients was made Monday, Oct. 7, during the opening session of 21st William T. Pecora Memorial Remote Sensing Symposium and the 38th International Symposium on Remote Sensing of Environment (ISRSE 38) in Baltimore, Md.
Individual Award
Dr. Thomas R. Loveland has devoted his career to understanding how the Earth's surface is changing through mapping and monitoring land cover and land use, which has resulted in groundbreaking global land cover research. His work has focused on the impact of human activities. He has been involved in capacity building nationally and internationally, for example, through the Famine Early Warning Systems Network in Africa, which saves human lives by directing response to famine-impacted areas and informing preparation for future famine.
Loveland has led the development of innovative monitoring programs, produced exciting new land cover and land-use change products, and steered efforts to improve Landsat missions, ensuring that the data are freely available to users. He led the International Geosphere-Biosphere Programme global land cover effort, which brought to fruition the first truly global effort to map land cover via remote sensing.
Loveland has led the development of multiple operational programs for land cover mapping and monitoring in the U.S. and was the convening lead author of the Land Use and Land Cover Chapter in the 2013 National Climate Assessment. From 2006 to 2016, he co-led the NASA/USGS Landsat Science Team, where his innovative and visionary ideas advanced land-imaging science and future Landsat mission planning.
Loveland's scientific and programmatic leadership has advanced the understanding of our changing Earth. Humanity knows more about natural and human-induced changes as a result of his work.