SDSU football hosts familiar foe Saturday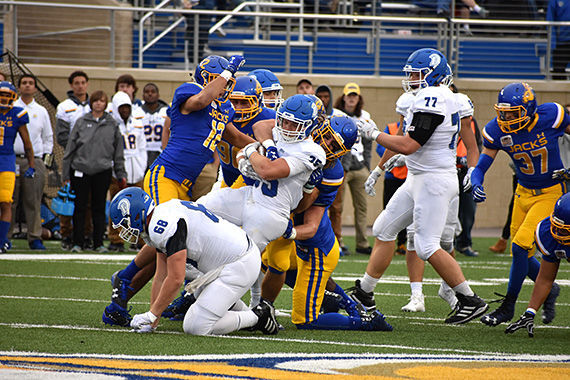 After securing its first win of the season last week, the South Dakota State University football team looks to extend its home winning streak to 13 games Saturday against Drake University.
Saturday's contest will be the Jackrabbits' (1-1) third matchup against the Bulldogs (0-2) in the last four seasons, with SDSU handily defeating the Bulldogs in 2016 and 2017 by scores of 56-28 and 51-10, respectively.
In last week's win, the Jacks relied on strong performances by the defense and running game to get the victory without starting quarterback J'Bore Gibbs. This will likely be the case again if Gibbs is unable to play Saturday.
A lopsided 38-3 final score would seemingly indicate dominance on both sides of the ball, but that was not the case. At times the Jacks were sloppy with the ball, fumbling three times, including one by second-string quarterback Kanin Nelson at the opponents' three-yard line, resulting in a turnover.
SDSU head coach, John Stiegelmeier, credited Long Island for making great plays to cause all three fumbles, but also said that the fumbles have "got to be eliminated." 
Ball security will be of extra importance this week going up against a Drake defense that took the ball away from opponents 23 times last season, which was tied for 25th in the nation. 
Drake's team brings back 11 starters from a team that finished 7-4 overall and 6-2 in the Pioneer League last season, including a near-upset of Iowa State in Ames last December. However, the Bulldogs are out to a rough start this year.
Drake dropped its season opener to the University of North Dakota 47-7 and was defeated 10-7 at home last week by D-II Truman State University. 
Todd Stepsis is in his first year as head coach of the Bulldogs but is not new to the program. He spent the last five seasons as Drake's defensive coordinator. Last season, his defense ranked in the top 10 nationally in total defense, scoring defense and rush defense. 
Stiegelmeier, a former defensive coordinator himself, had high praise for the Bulldogs' defense. 
"They play their base defense really well," Stiegelmeier said. "They have good players and their guys master their techniques. Very little disguise, very little worry that we know what they're in. His deal is 'we're gonna do it, we're gonna do it better than anyone else, and if you're going to win you're going to have to out-execute us.'"
Defensively, AP Football Championship Subdivision First Team All-American Will Warner is one of four returning Bulldogs who were named to the All-Pioneer League team.
The other three, defensive linemen Gavin Dineen and Erin Morgan and linebacker Zac Rujawitz, will spend their Saturday afternoon trying to make things difficult on the SDSU offensive line — a unit Stiegelmeier wants to see improvement from after "taking a step back" last week.
"We need to take a step forward and be better at what we do whether it's snapping the ball, pulling, double teams," Stiegelmeier said. "I don't care who we're playing; we've got to be better." 
On offense, Drake returns its top three rushers and receivers from last season. This combination of talent accumulated 2,751 total yards and 28 touchdowns last year. The Bulldogs also return 2018 All-Pioneer League offensive lineman Jacob Bacon.
Despite all the individual talent, Stiegelmeier insists that the scheme is what impresses him the most.
"The biggest challenge they present is that they do more than any team we've ever seen," said Stiegelmeier. "They'll line up in one (formation) and shift five guys and be in something totally different. It's mind-boggling. It's not going to be the people, it's going to be the system." 
Kickoff is scheduled for 1 p.m. Saturday at Dana J. Dykhouse Stadium in Brookings. Television coverage can be found on Midco Sports Network and radio coverage will be provided by the Jackrabbits Sports Network. Additional live coverage will be available on Twitter through @CollegianSports.