More students need more space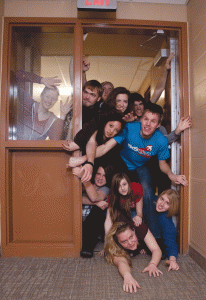 Big changes planned for living and dining as enrollment grows
Managing Editor
Fast forward to 2013 and SDSU students could have two distinct residential neighborhoods, 800 more beds and expanded dining services.
This is part of Phase II of the 2008 SDSU Residential Life and Dining Services Master Plan, and it all needs to be approved by the Board of Regents next week when they meet in Brookings.
"The whole master plan is built around the central theme of student success," Vice President of Student Affairs Marysz Rames said. "To do that, we're creating two neighborhoods."
The two neighborhoods refer to freshmen and sophomores in the southeast corner of campus, and juniors, seniors, transfer students and graduate students in the northwest.
This decision was made largely in response to data about retention.
"It showed that students living on campus close to resources have a higher chance of graduating," Rames said.
Research showed that students are most likely to leave between their freshman and sophomore year. After analyzing data from 2008 and 2009, Rames said that university officials determined underclassmen were more likely to leave if they lived on the west side of campus.
In 2008, freshman to sophomore retention was 2.7 percent lower on the northwest side of campus than the southeast. In 2009, it was 5.3 percent lower.
"Every time I put a freshman in Hansen or Waneta, I have a higher chance of losing them," Rames said.
Along with retention, adding 800 beds on the southeast side of campus to accommodate consistently large numbers of incoming students, is a main focus of the plan.
In fall 2010, there were 355 more freshmen and sophomores on campus than there were spaces for freshmen and sophomores.
Between now and 2013, it is predicted that there will be 710 upperclassmen and 316 more underclassmen. So, if there are not more beds added by 2013, the 355-gap will increase to 671.
The current 355 freshmen and sophomores have been put in places that are intended for other people or other uses: dayrooms, and Berg, Bailey and Waneta Halls.
"When we had Waneta single room occupancy this last fall, we had 157 students [who] wanted to live in Waneta," Rames said. "That didn't happen."
Instead, because of enrollment numbers, Waneta had 52 singles.
The university hopes the BOR will approve the 800 new beds with the assumption that every bed will be filled.
"This is very conservative and will meet the needs of projections for fall 2013," said Nick Wendell, assistant director for Student Activities, who worked on Phase II, along with Rames and other university representatives from The Union, Residential Life and Dining Services. "We are stewards of state dollars, so we are only planning on building for what we need today."
Rames said that if 800 beds are not enough, they have been talking to Greek chapters and will arrange sophomore releases to Greek Village.
Other than the fact that it would be built on the southeast part of campus, the details about these new residences still have to be determined.
If the plan is approved, nothing will be completed until 2013. To deal with the over-capacity levels next year, the university has plans to make Hansen and Berg Halls sophomore residences, but "only for this year," Rames said.
"We would turn Hansen over to what we call academically-dedicated sophomores," Rames said.
This means students with a 2.8 or higher GPA who are driven academically that would benefit from a quieter setting.
Dining options go hand-in-hand with residence halls, so Phase II also includes a plan for increasing space and relocation.
Rames said that recent dining services surveys indicate The Union is a favorite.
"Students, in general, are eating lunch in The Union," Rames said. "The Union is a living room, kitchen, and a dining site for the students," Rames said. "It is where they hang out, study, meet friends and attend programs and meetings."
Based on the survey information, students are satisfied with the current expansions in The Union, as well as the renovation at Larson Commons. Rames said the number of students eating at Medary is down.
"When a predominantly upperclassman neighborhood is established in the northwest corner of campus (which would be in 2013, if approved), there are potential plans to discontinue using Medary and add a built-in dining facility to the Hansen lobby," Rames said.
Rames said the purpose of the whole plan – both the residential and dining aspects – is "based upon creating the right environment" for students.
"We have a commitment to housing freshmen and sophomores," Rames said. "We also want to provide options for juniors, seniors, transfer students and graduate students."
Reporter Katie Hill contributed to this report.