Regular season close to finish line for Jacks soccer
For the first time in two weeks, the South Dakota State soccer team will have multiple games in one week. The Jacks will host the Fort Wayne Mastodons Thursday and travel to Tulsa, Oklahoma, Sunday to take on the Oral Roberts Golden Eagles.
These games follow an impressive 3-0 shutout victory last week against Western Illinois, thanks to goals from senior Tori Poole, junior Annie Williams and senior Nicole Hatcher.
The Jacks have won five straight games and are 3-0 in the Summit League.
Sophomore Maggie Smither has started 13 games in goal with 14 appearances on the year. She leads the Summit League with a 1.02 goals-against average and 67 saves on the season. On the offensive end, Nicole Hatcher had two assists against WIU. That brought her to 22 for her career and broke the SDSU career record.
Head coach Brock Thompson said just because his team is 3-0 doesn't mean they should get too confident.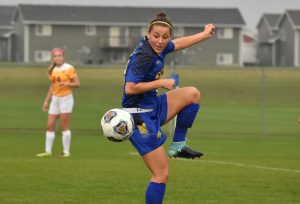 Hatcher said the team needs to stay focused as they only have four games left in the regular season.
Fort Wayne (1-13, 0-3) has lost five games in a row and is at the bottom of the Summit League. During the five-game skid, they have been outscored 16-5. They give up 2.62 goals per game while scoring only one goal per game, which is last in the Summit League. 
The Mastodons are led on offense by sophomore Kendall Quinn and junior Deanna Hecht, who each have four goals this season.
Although the Jacks have better stats, Thompson said it's all about using the mindset he has been preaching to his team since the start of the season.
"We're expecting a tough game," Thompson said. "It is all about mindset as a program. We all think circumstance shouldn't change your attitude, focus or effort."
Oral Roberts (6-8-1, 3-1)should be a far tougher test for the Jacks as they are right behind them in Summit League standings.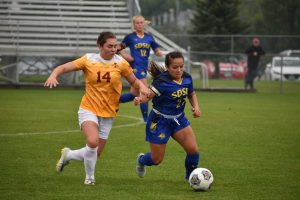 The Golden Eagles come into the game averaging 1.47 goals per game, which is second in the Summit League. They are led on offense by sophomore Jordan Langbartels, who has five goals and senior Caitlyn Hanslovan, who has four goals and two assists.
In net, junior Ryliegh Bohnenstiehl has started 11 games for ORU and has a goals against average of 1.35 with 54 saves. As a team, the Golden Eagles give up 1.75 goals per game, which is fourth in the Summit League.
Thompson said the Golden Eagles are unlike any team they have faced this season.
"They are a different team with a different style than you usually see in the upper Midwest," Thompson said. "They've got some really crafty players and some small, quick, agile players — where, up here, you see players with a little more height or size. So it's always a little bit of an adjustment when you play them." 
The top four teams will qualify for the Summit League Tournament Nov. 2 through Nov. 4 in Fargo, North Dakota. Right now, the Jacks are in second place in the league with four games to play and are in a good position, but Thompson knows it won't be easy. 
"Every game in the Summit League is a battle," Thompson said.