Local establishments cater to students' pizza cravings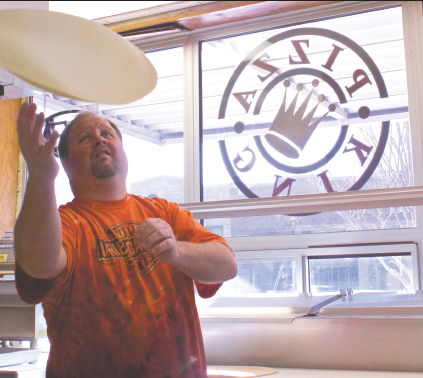 By heidi kronaizl News Editor
February 19, 2014
Pizza is a staple in most college students' diets. With over seven pizza restaurants in Brookings, pizza is easily accessible to students.
For the students' choice survey, George's Pizza was selected as the best pizza. They have been serving Brookings since 1971. Customers can choose from a wide variety of toppings for their pizza. Also on the menu, "Our homemade dough is made fresh daily. We use 100% real mozzarella cheese."  
George's offers 14 specialty flavors of pizza including alfredo, BBQ chicken and George's Special which consists of sausage, onions and green peppers. Flat bread pizzas can be made to order as well. 
George's claim to fame, which is also placed on their menu is "home of the window pizza." The pizza window serves slices of different varieties for $3 per slice and is open Thursday through Saturday from 10:30 p.m. to 2 a.m. 
Although pizza is their specialty, George's offers other Italian and American dishes as well. Calzones, pasta, burgers and chicken are available on the menu.
Another local pizza place is Pizza King. They open at 4 p.m. daily and on Friday and Saturday nights, they offer barbecue sandwiches and pizza orders until 3 a.m.  
"I let them come in and actually order a pizza," said Shannon Brown,  owner of Pizza King. "They can also sit in the restaurant [after bar close]."
Pizza King's top seller is pepperoni pizza, according to Brown. He also makes his own sauce and dough. Brown will be competing in a worldwide pizza competition in Las Vegas on March 23. In the past, he has placed in the top 16. The prize is $7500 and being noted as the "World's Best Pizza."
Students not only choose local restaurants for their pizza, but also from pizza chains. Domino's Pizza, which is located close to campus on Sixth Street and Medary Avenue.
"I order from Domino's because they have all the good deals in town," said Adam Hayes, sophomore physical education major. "I once got a medium pizza, cinnasticks and bread bites for $10. It tasted good."
Domino's offers delivery and the option of ordering online. Domino's also offers gluten-free crust.
Another pizza chain popular amongst students is Pizza Hut. 
"I usually get the pizza dinner box because it's cheap," said Chelsey Kolander, a sophomore nursing student. "It's good and they have amazing breadsticks."
Other pizza chains located in Brookings include Papa John's, which has a location in The Union.  Papa Murphy's, also located in Brookings, offers "take-n-bake" pizzas, which are prepared for the customer as ordered. Brookings will see an expansion in pizza selection soon with the return of Little Caesars, a chain known for its Hot-N-Ready $5 pizzas.  According to franchise vice president Bob Maziotti the restaurant is expected to open within the next six months.