Riders reign in Independent Championship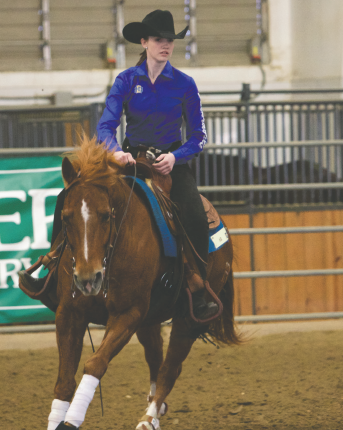 Robert Myers Sports Editor
April 1, 2014
 The Jackrabbits upset top-seeded and No. 8 ranked Fresno State in a tiebreaker on Friday's semifinal en route to a victory over the University of Tennessee at Martin to take the championship. 
Earlier in the week, head coach Megan Rossiter said she was confident in her team's ability to win the tournament and even though the goal was in doubt for much of Friday, the Jacks followed through by the slimmest of margins. 
After dropping three points early-on in equitation over fences, the Jacks found themselves trailing 7-5 heading into reigning, the day's final event. 
With two matchups won by Danielle Baker and Laura Dunlavy and the other match effectively lost by Caroline Lesousky, the opportunity to tie the Bulldogs fell upon the shoulders of recently named All-American Raivenne Scott as she pulled off the victory to force the tiebreaker. 
"To be honest, I was really, really nervous because I know the whole team was counting on a super great ride, just from me, from everyone," Scott said. "Afterwards I was just so relieved and so happy." 
SDSU athletes and coaches were left in suspense but after the western equivalency was tallied, SDSU was announced victorious, 2056.5 to 2042. 
Saturday's competition versus the Skyhawks, while remaining deadlocked going into the reigning, carried far less suspense with the Jacks knowing that all they needed to do was split reigning, their strongest event, and they would likely have more than enough points for the tiebreaker. 
They did far more than split though, sweeping the event with all four SDSU riders breaking the 140 mark with their scores, including Lesousky, who redeemed herself with a 142 to earn the Jackrabbits' first victory in the event. 
"It really is a great bunch of girls," Scott said. "We all work super hard in practice and it just really shows that it all finally paid off – our good attitudes and our determination." 
Winning the championship culminated what had been an exciting week for the team, beginning with Scott named as an All-American. 
"When I first heard about it, I was actually on my way to practice," Scott said. "My coach called me and I was so excited because at the beginning of the year we sit down and we make goals. That [All-American] was one of my goals and I'm just so excited that I actually reached." 
Scott has yet to lose a reigning matchup on the year, going 10- 0-1. 
"Raivenne Scott has just been really steady," Rossiter said. "When you put her in, she gets her point. When she goes in, I just relax because I don't have a lot of coaching to do with her. It's really easy for me when she goes in to ride because she has a great feel. She can ride anything." 
The weekend's tournament proved a landmark moment in the program's young history, not just because of the victory but also because it was the largest undertaking SDSU equestrian has hosted. 
"This was a challenging tournament to host," Rossiter said. "You need a large number of horses, so we had to borrow 
 horses. We have prepped not only our athletes, but horses for the entire event. And the facility, this is the first tournament that we have hosted."
Coaches and athletes carried a great deal of the workload, spending hours at the DeHaan Center in recent days. Sophomore Alisha Haddock said she was there from 6 a.m. until 9 p.m. on Friday.
"Our team put in a ton of work," Rossiter said. "Our athletes have spent a lot of hours here all week, prepping. They had a super long day yesterday and today just with the meet, let alone with practice and getting the horses ready. It was a challenging week, but certainly feels like it pays off when you win."
As an added bonus to winning the tournament, the Jackrabbits now have a chance to be invited to the NEAC Championships which begin on April 17 in Waco, Texas. 
"I just feel a weight off of my shoulders, because I did my part," Rossiter said. "We got this team ready for the tournament. The team did their part. Now it's out of our hands and goes to selection so I'm just not really worried about it one way or the other because there's nothing else I can do right now."