Drones are no longer exclusively being used as military weapons, but becoming more present in the workplace and as a hobby. An emerging trend in some job fields requires hands-on experience with drones.
A new certificate, added to the South Dakota State catalog this summer, aims to give students that experience.
The unmanned aircraft systems (UAS) certificate is a 12-credit program offered through the Geography Department. It allows students the chance to work with drones and apply the technology to their field of study.
Applications for drones in photography, videography and mapping could be used in fields like agriculture, construction, emergency services, engineering and real estate.
SDSU instructor Byron Noel teaches introduction to small aircraft systems, one of the classes required by the certificate. He co-created the program with Bob Watrel, interim head of the Department of Geography.
"These things [drones] aren't just pretty pictures and cool videos," Noel said. "They're really useful commercial and scientific data collection tools."
Noel said the importance of drone use for information-gathering and the increasing popularity of drones led him to create the program.
"This is a tool that absolutely will become much more prominent in the next few years and it's a skill that a lot of students might have to have," Noel said. "I see this as a great addition to whatever field you're in now, to add to your resume and your employability."
Noel's course teaches students how to operate drones with safety instruction, simulation training and piloting experience.
The course also prepares students to pass the 107 small UAS commercial pilot test through the Federal Aviation Agency, essentially a driver's license for drones in restricted areas. Noel was one of the first people in the state to receive a 107 license.
"This is a tool that absolutely will become much more prominent in the next few years and it's a skill that a lot of students might have to have."

-Byron Noel
SDSU Instructor
While piloting a drone on campus is restricted, a request can be made for flight permission through the university. But this can only be done if the requester has a 107 license.
Thomas White, a junior geography and geographic information systems major,  plans to get his 107 license after completing introduction to small aircraft systems this fall.
"It's just that there are so many uses for it with my major. They're really good for aerial photography and mapping," White said. "Not only that, but they're also just a lot of fun to fly."
White said he hopes to take part in drone flying on campus and perhaps take part in a drone race on campus.
In addition to Noel's class, two other courses are required for the program: aviation safety and aerial remote sensing, with a fourth class as an elective.
Getting the program off the ground took a lot of work, Watrel said. Some of the biggest challenges to getting the program started included liability for the safe use of the drones and government drone policy, but all of this fell into place last year, he said.
"It's difficult with something like this because the technology is so cutting edge. It's still being updated," Watrel said.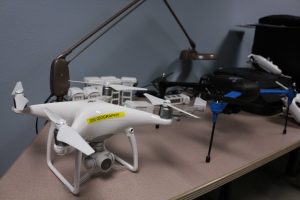 Once the university approved the program, the proposal went to the South Dakota Board of Regents where it was also approved. A $12,000 grant through the Office of Provost Dennis Hedge provided the drones used by the program as well as the software needed to train students to use them.
There aren't any students enrolled in the certificate program, but 16 students are taking introduction to small aircraft systems this semester. Noel hopes to have 10 to 20 students pursue the certificate each year and eventually expand it into a minor.
"We're hoping that we can get the word out now and increase interest in students," Noel said. "I think that's the fastest way to have us utilize this technology, but also advance it."