From soldiers to students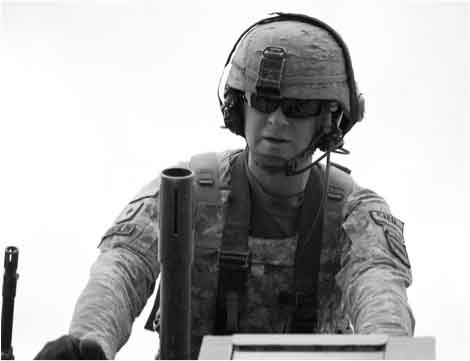 Danny McLaughlin winces when he sees someone fuss over a cup of coffee that has too
much cream in it, or if it's not the perfect temperature. When he was deployed in Afghanistan in 2007, he would have given anything for a simple cup of coffee, with or without imperfections.
His friend and roommate Justin Schneider, who also spent a year deployment in Afghanistan in 2007, said that's one of the first things he noticed when he came home from war — how much people "sweat the small stuff."
"We had worse things to worry about," McLaughlin said.
Both men are now 26-years-old and juniors attending SDSU. They have each experienced war and are now trying to tackle another challenge: college.
Several students find transitioning back into school after being away on summer vacation for three months a daunting task, but for veteran students like McLaughlin and Schneider, coming back to school after serving time in a war overseas, where roadside bomb explosions and seeing your platoon members die is not an uncommon occurrence, is a whole different ballgame.
McLaughlin completed five semesters at SDSU before his two tours in Afghanistan, but when he returned home he found he had to start from scratch, just as if he was a senior in high school applying to college for the first time.
"It's a big pain," he said. "I had already been through the process the first time and here I am, 26 years old, going to Freshmen Orientation all over again."
He said Freshmen Orientation is not as helpful to veteran students. The information veterans need is not covered thoroughly in the orientation.
Last fall, the Armed Forces Association put together a veteran's orientation to try to solve this problem. But it was deemed unsuccessful, as only one veteran showed up.
"The problem is, we don't know who is a veteran at SDSU and who isn't so we couldn't reach out to them as much as we want to," said Andy Ellis, the adviser to the AFA. "Most of the people in our group have found us by chance."
Schneider said the most stressful process veterans face is returning to the classroom and becoming "normal" again.
"What's normal to us isn't what is normal to everyone else," he said. "I was used to knowing what tomorrow, next week, next month, would be like and now that I have the ability to plan my own schedule, my own life, it's difficult."
Ellis said this is not unusual for veterans who are returning to the collegiate setting and many veterans find support by interacting with like-minded individuals at the AFA, which meets every other Wednesday in the basement of Sully's Irish Pub.
"Some members have said they were at the bottom of the barrel and felt depressed because they felt like they were alone in a mass of students who they couldn't relate to," he said. "Our group is about camaraderie."
Classroom triggers
Physically sitting in class comes with its challenges for McLaughlin and Schneider. Both faced injury while in battle. Schneider suffered a back and knee injury that resulted in surgery last September. He also says he hears a constant ringing in his ears if he's inside a room that's too quiet.
"You can't imagine how annoying that is," he said.
Schneider sits in the front of the classroom because he is distracted by others talking or texting.
"I don't do well with distractions. I swear, my attention level is about half what it used to be," he said.
McLaughlin suffered a traumatic brain injury, or TBI, when a roadside bomb stuck him and his platoon members. The injury affected his ability to remember and comprehend things as quickly as he once did. He also endured many concussions due to close contact with seven roadside bombs and four rockets. He believes this may also have affected his ability to learn and remember.
"You have to teach yourself how to learn again, how to study, how to go to school," he said. "I have to try harder to remember because my memory is so bad — might be why my hearing is so bad, too."
Ellis said along with injury and distractions, veterans can have opportunities where the classroom in general can overwhelm them.
"Taking a person from active duty and sticking them back into the collegiate setting can be a really tough transition," Ellis said.
Fitting in
Along with getting through college academically, McLaughlin and Schneider have had their share of social struggles. Having been a world away in a land filled with war, relating to other students can be difficult.
"People think they know about war because they play a video game based off of war, but the war we were in was real," said McLaughlin. "When we were there the guts were on us and our friends didn't come back on the next level if they died. Once they were gone, they were gone."
Also, for a year they lived and saw the same people day-in and day-out and platoon members "became family" so both men have found adjusting to a new place without them challenging.
It's hard for old friends to connect, said Schneider. Troops cannot call home often,  so many times they miss important moments such as marriages, job promotions and moving to a new place.
"People's lives continue when we are away and it's hard to come back and connect with people like you did before you left. People change, we change — a lot happens in the course of a year," said Schneider.
Moving on
After graduating, McLaughlin wants to pursue federal law enforcement and practice forensic psychology. Schneider wants to use his agronomy major and help farmers be more efficient to get better yields.
Regardless of the trades they pursue, both men say the military has given them a maturity level beyond their years and an ability to deal with spur-of-the-moment issues.
"The military makes you grow up pretty fast," said Schneider. "It has to."