A chat with Jamie Smith: Democratic candidate for governor discusses abortion, teacher pay and more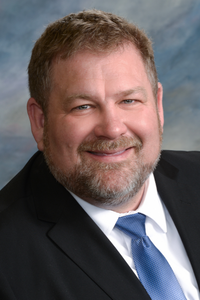 South Dakota voters will go to the polls Nov. 8 to elect the next governor of South Dakota. The race between Republican Gov. Kristi Noem and Democrat Jamie Smith is tight. The Collegian had the chance to sit down with Jamie Smith to discuss his stance on teacher pay, abortion rights, Native American relations and more.
In an effort to remain non-partisan, The Collegian contacted Gov. Kristi Noem and her team multiple times to conduct a similar interview. We did not receive a response. 
Editor's Note: At the time of publication (Nov. 2), we had not received a response from Noem's team for an interview. Noem has since made herself available for questions as of Nov. 4. The Q&A with Noem is linked at the bottom of this article. 
The Collegian: How are you going to encourage college students to stay in the state after graduation, especially in the biomass and agricultural jobs?
Jamie Smith: The first thing we have to do is acknowledge that a lot of people don't even think 'brain drain' is real, and I know it is. I see too many of our best and brightest leaving the state to go find some job that doesn't exist in South Dakota right now. We need to do a better job at attracting those industries to our state. I'd like to promote more co-ops in the state. I'd like to push more value-added ag. I don't want our grain leaving the state without turning into something else first. I'm really a big proponent of keeping that local. Another way to do that would be to have an office that would work at making co-ops a reality here in the state of South Dakota and doing things with that grain before it leaves the state. 
TC: You've mentioned that you want to reconcile with the Native American tribes. What does that plan look like?
JS: The first step is communication and being open, having a policy of open doors, meeting with leaders from all the tribes in the state and not being adversarial in that relationship. You need to stand alongside each other and find out how they can help us and how we can help them.  They're South Dakotans, and all South Dakotans deserve the opportunity to be successful. And we need to work alongside our Native friends to make sure that happens. 
TC: You've said that we need to have more respect for teachers in this state. As a former educator yourself, how do you plan to implement policies for that?
JS: It starts all with your attitude towards public education. In the past several years, there have been bills brought to demean education. The social studies standards is just one example of what's going on. When you try to go outside of the state, to a super-conservative organization in Michigan, to come up with our standards for teaching social studies in the state of South Dakota, that's not right. That's not how it's ever been done before, and teachers are sick and tired of it. The other thing is, of course, teacher pay. We're back to about 50th in the country again. It's not right. They work so dang hard to make sure that our students have the best opportunities, and our teachers are fabulous folks. We need to make sure that they're compensated.
TC: Where does the money come from to pay teachers more?
JS: We have $115 million extra right now that was not budgeted this last year; a surplus, and we're done with surplus budgeting. We need to spend the money that we have coming in and not use it for one-time projects every year because it's leftover. We need to actually use it to pay the people that work for our state, to pay our communities our providers and pay our educators.
TC: You said if you were appointed governor that you'd create a childcare advisory council. What does that look like and why is it important to the state?
JS: We've worked with professionals in that industry, along with our major businesses … and we would put a task force together to see what we can do in partnership with one another to make sure that we have safe and affordable childcare for all South Dakota. Right now, there are people left out of the workforce because of the lack of safe and affordable childcare.
TC: If you're elected governor, how will you change the state's abortion policies?
JS: The trigger law that has been enacted is one of the strictest in the country and it's not a compassionate law. We need to change that. We have a bill already that would eliminate rape and incest right away. I would hope that that would pass through the House and Senate and we would sign that into law. If not through the referendum process, South Dakotans will be bringing a bill to make sure that women's rights are restored in the state of South Dakota, and I will fully support them in their efforts.
TC: We've seen recently with the overturning of Roe v. Wade that the power can be handed back to the states for some landmark SCOTUS decisions. If a case like Obergefell vs. Hodges (recognizes same-sex marriage) gets overturned, what action would you take as governor?
JS: First of all, I pray that doesn't happen. I believe all South Dakotans should have the same rights. We will work to make sure that that exists for all South Dakotans. I've been quite open on the record that I will not allow bills that I deem to be targeted or hateful to cross my desk and get signed.
See story on Smith's opposition, Republican Gov Kristi Noem, here:
A chat with Kristi Noem: governor talks out-of-state campaigning, tax cuts