Small businesses are at the core of what makes Brookings such an attractive and thriving community. It is no coincidence downtown Brookings was nominated for America's Best Main Street in 2016. One small business in Brookings has its roots deeply entwined not only in the community, but South Dakota State as well.
Cleanslate Design + Print, started by South Dakota State University alumni Marcie Mizera and Jen Conners, is a graphic design and print shop located at 317 Fifth Ave. in downtown Brookings. Since 2010, Cleanslate has provided the Brookings community with print and design solutions.
Before starting Cleanslate, co-owners Mizera and Conners were making T-shirts for rock bands out of a dining room. When Harold's Printing Co. closed, Mizera, who had been working there, decided to bring the old client list with her.
Combining the apparel design aspect with the printing, Mizera and Conners partnered to build and open Cleanslate Design + Print, which Conners said was a "leap of faith which has turned out very well."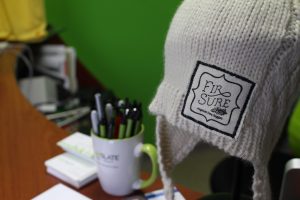 Mizera graduated from SDSU in 2003 with a degree in graphic design. Afterward, Mizera worked for Harold's printing for nine years. Mizera said she is "obsessed with fonts and paper," so going into the printing business was a "natural fit."
Conners graduated from SDSU in 1998 with a degree in graphic design and immediately moved to Richmond, Virginia, where she worked at a camera shop until moving back to Brookings in 2001.
After returning to Brookings, Conners worked at restaurants and other businesses because "nobody was hiring photographers at the time." She met Mizera after returning to SDSU to complete a minor in art. With their shared graphic design interests, they became friends and started working together.
Conners said one of the biggest advantages of having a business in a small community like Brookings is the sense of "togetherness," and the ability to connect with customers and clients on a more personal level.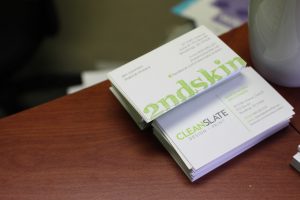 For the past five years, Mizera and Conners have put together a Frisbee golf tournament called the Oakwood Open every September at Oakwood Lakes State Park. The tournament raises money for other local business and organizations, like the Brookings Domestic Abuse Shelter, the Brookings Humane Society and this year, the Brookings Food Pantry.
Conners says giving back to the community is very important and having a small business serves to facilitate this even more.
Cleanslate Design + Print offers design and print services like business branding, business cards, stationary, wedding invitations, apparel design, plus more products and services.