Cirillo resigns as Jackrabbit volleyball head coach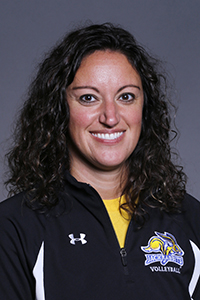 After compiling a 6-22 record in the 2019 season, South Dakota State head volleyball coach Nicole Cirillo announced her resignation.
In her five years at the helm of the Jackrabbit program, SDSU amassed a 24-120 record.
Cirillo's most successful season came in 2015, when the team put together a 7-25 campaign.
"I thank Nicole for her efforts over the last five seasons and wish her nothing but the best in the future," South Dakota State Director of Athletics Justin Sell said in a release.
The highest that the Jackrabbits placed in the Summit League Conference was eighth out of nine teams, in 2015, 2016, 2018 and 2019.
Before Cirillo, the Jackrabbits hadn't seen much success.
In 2007, the team joined the Summit League and won the conference championship — something it hasn't done since.
Now, the Jackrabbits are looking to at least get back to .500, a record that they haven't had since 2012 — when they went 16-13.
South Dakota State will immediately begin a nation-wide search to replace Cirillo.