Home sweet home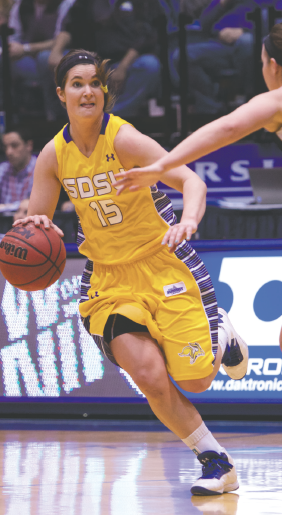 Robert Myers Sports Editor
March 26, 2014
After a half-court buzzer beater from Steph Paluch highlighted the team's victory over Butler in the first round on Thursday, SDSU women's basketball extended their postseason run, rallying from 12 down to defeat the Creighton Bluejays 72-61 in Frost Arena.
Sunday's game was the second meeting of the season for the two teams, as Creighton (20-13, 12-6), who finished the year third in the Big East, defeated the Jackrabbits by five points in Omaha last November. Five months later, the Jacks got their chance to host, and they did not disappoint their home crowd of more than 2,000, a crowd which impressed Creighton head coach Jim Flanery.
"The home court advantage is the home court advantage," Flanery said. "I give them a lot of credit for that run, but our kids panicked at some times during. … When the crowd can get behind you [the home team] and cause the other team to panic but also lift you up, that's why it's tough to win on the road. Not to take anything away from them because they deserved to win."
SDSU's start on Sunday resembled their start against USD in their Summit League Tournament loss. Creighton quickly jumped out to an 8-2 lead in the opening minutes and then expanded their lead to 25-13 through 10 and one-half minutes of play, dominating the Jacks in the rebounding category and keeping the SDSU shooting percentage in the low twenties.
"I almost think it came to the point where our team said, if we don't make a change this is going to get out of hand," head coach Aaron Johnston said. "If there wasn't going to be a change, it was just going to be over."
The Jackrabbits turned it around at the nine-minute mark, solidifying their defensive intensity as they did not allow another basket for the last 9:45 of the half, going on a 16-0 run to take a 29-25 lead into the locker room and improving their shooting percentage to 32. SDSU also turned around the Bluejays' early advantage in rebounding to hold a two rebound edge at the break. 
"Everything for our part was really solid," Johnston said. "It wasn't explosive, it was just a solid drawn out run." 
Halftime had potential to prove a reset for both teams. Instead the Jacks continued where they left off, scoring seven the first two minutes. By the time Creighton made a bucket at the 15:38 mark, 11:29 and 28 SDSU points had elapsed since their last basket.
"The start of the second half was really good," Johnston said. "Steph came off of a couple ball screens and made some really under control plays and we had the transition three from Megan [Waytashek]. We just made the push that we needed to keep going."
The Jacks led by as many as 19 points before the pendulum swung back towards the middle. Riding an aggressive full-court press, Creighton trimmed the lead down to 11 on multiple occasions, but never came any closer as the Jacks responded with an increased sense of focus. Paluch scored seven points in the final four minutes to ice the game away and prolong her and her fellow seniors' careers at least one more game.
"I felt like they got a little passive at times and that helped us," Flanery said. "Then they also put their head down and drove it. Paluch made plays. We didn't stay in front of her at the end of the shot clock a couple different times. … I don't believe in the coach who is down 15 with two minutes left and starts fouling. I like to back it up and say hey at the six, eight, ten-minute mark, you've got to take a risk to get back in the game."
Paluch finished with a game-high 19 points along with four rebounds. Waytashek had 11 points and five rebounds. Rounding out the Jacks in double figures was Gabby Boever who scored 10, rebounded six and made four steals.
"It's all about effort," Boever said. "If you play with the effort that it takes to do it, I get them [the steals], but it's a hard thing to do. 
For Creighton, Sarah Nelson led the way, scoring 15 points and pulling down nine boards. Foul trouble caused her to come out of the game midway through the first half and she wasn't the same offensively after that, scoring only six more points. Marissa Janning, Big East Player of the Year, also finished in double figures with 11 points and six rebounds.
Neither team shot the ball particularly well, with SDSU shooting 34.5 percent from the field followed by Creighton shooting 30.6 percent. 
The teams were also similar in rebounds, with SDSU holding a one-board edge in that category. Crucial down the stretch for the Jacks were free throws. They made 21 of 28 in the game, while Creighton only took nine trips to the line.
Next up for the Jacks will be Minnesota who will visit Frost Arena on Thursday at 7 p.m.