Wires were hung up first. Then holes were drilled in the floor, permanently changing the DePuy Military Hall gym last November.
It wasn't until December that the Army Reserve Officers' Training Corps (ROTC) was notified about plans to move the Department of Economics onto its training floor.
These changes negatively affected the program, taking away space for training, ceremonies, labs and more, and led to anger and frustration among many cadets.
"We do a lot for this school and we see little in return — actually, no return," said Trina Baker, executive officer in ROTC and senior dietetics major. "We see it get taken away."
It was when Baker found a 1965 contract between the Army and South Dakota State University that she spoke up about the problem.
The contract requires offices, storage rooms, a gym floor and classrooms "to be exclusively used by the ROTC program." Because SDSU has taken away the gym, Baker believes they are violating the legally-binding contract.
Russ Chavez, director for Veterans' Affairs, interprets the contract as ROTC requiring its own facility, free from use as a "squatter area" by other departments.
This is the third time since Chavez has been at SDSU that ROTC's hall has been used by the university.
In 2004, eateries from the Student Union were moved there during The Union expansion. Then, about five years ago, the Department of Architecture was placed in the hall temporarily. ROTC's thoughts weren't given consideration during either instance.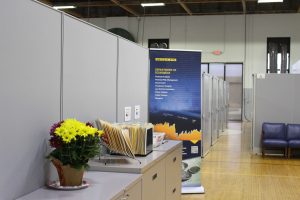 SDSU was voted eighth best in the nation for veterans, according to the 2017 Best for Vets survey. Chavez said he believes SDSU is a military-friendly campus and would "like to continue to believe that."
Cadets reached out to Provost Dennis Hedge about the current situation.
"We've done our best to work within the spirit of the agreement," Hedge said. He did not tell the cadets whether another department would move into DePuy after the economics department.
Lt. Col. Corey Norris, professor of military science and SDSU Army ROTC department head, said the contract is "antiquated" and doesn't apply to much of the current program's needs.
"I don't know if (the university is) actually violating it," Norris said.
The economics department moved to DePuy Military Hall last academic year because its original building, Scobey Hall, was infected with mold.
Hedge hopes more space will open up in Lincoln Hall when the School of Performing Arts moves to the Performing Arts Center.
Harding Hall, where the economics department will relocate to, won't complete renovations until fall 2018. Cadets must work around the lack of gym space for another semester.
Nate Stafford, a junior history education major, works to help implement most of the Army ROTC's training and finds it a "logistical nightmare" to work around the university and other organizations.
"We don't feel like a priority," Stafford said.
The ROTC program is a pillar of SDSU as a land-grant institution. While others, such as agriculture and engineering, have expanded, Baker said the military science pillar is "being taken away piece by piece."
A lack of resources is forcing cadets to train at 70 percent efficiency and could have "dire consequences" when they graduate and lead soldiers in the field, Stafford said.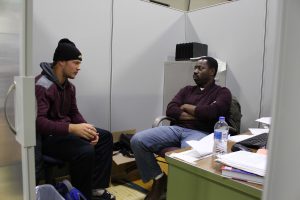 Baker met cadets from other universities and sees the lack of resources at SDSU as a disadvantage for the program and her training.
"Seeing those disparities makes us feel like we should have gone somewhere else as a cadet," Baker said.
Stafford said using varied locations creates stress on the program. Cadets not only have to rent out training space from the university at the Sanford Jackrabbit Athletic Complex or the Barn, but they also need permission from the University Police Department to use their training equipment.
He compared it to regular students needing permission from UPD to use their own laptop, or having to rent space every time a student wanted to study in The Union.
The program doesn't get priority when training in the SJAC, either. In some instances, cadets were forced to move onto the track so athletic teams could use the field.
Norris is working on a new, more "generic" contract than the original and plans to rewrite it with Hedge within the next few months. Steps have been taken to give ROTC some of the requirements back in the original contract in the meantime — such as a flagpole for cadets to raise the flag each day.
"In the end, hopefully, we get our space back," Norris said.
10:05 a.m. Nov. 16 — This article has been updated for accuracy.