Jacks face tough test in Macomb after blow-out win
South Dakota State football head coach John Stiegelmeier and his team got back on track last week as they rolled over the Missouri State Bears 60-32. Now the Jacks will have to shift their focus to traveling to Macomb, Illinois, to take on the No. 14 ranked Western Illinois Leathernecks.
"I feel great. It was good medicine for us," Stiegelmeier said. "It was good for our confidence, but it's also good to say these are the things we need to work on."
The No. 8 Jacks (5-2, 2-2) have yet to string together two quality Missouri Valley Conference wins, but will look to do so Saturday against WIU (5-2, 2-2) which will be coming off a 24-12 defeat to the North Dakota State Bison.
While the Jacks started the season with championship-aspirations, those have started to take a hit as they find themselves in a tough spot. Despite coming off of a victory, SDSU sits at fifth place in the MVC, with their next four games against ranked opponents. But Stiegelmeier said the Jacks can't focus on anything other than the WIU Leathernecks right now.
"1-0, our philosophy is really simple. The next game doesn't matter if you don't take care of this game," Stiegelmeier said.
It will be no small task, as the Leathernecks come into the game as the sixth ranked team in the MVFC.
On offense, WIU features a balanced attack as they have shown they can both run and pass, but they normally choose the latter.
In the past two contests, the Jacks defended both star receivers Daurice Fountain (UNI) and Malik Earl (MSU). SDSU defensive backs will be sure to have their hands full again as WIU fields the best receiver in the MVC, senior Jaelon Acklin.
"It starts with one guy, #17 [Acklin]. For a guy to have 52 catches after seven games the red flag comes up and goes we need to pay attention to this guy," Stiegelmeier said.
Acklin has bullied secondaries up to this point on the season. He has 943 yards to go with his 52 catches and has made a habit of finding the end zone, as he has scored eight times. Acklin doesn't just get it done on the ground, he has also rushed 10 times for 195 yards and three touchdowns.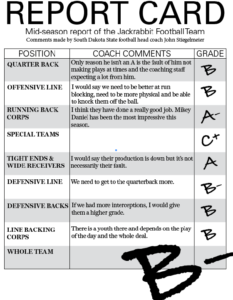 "Coaches have put us in the right positions every single week, we just have to play fast, play physical and make plays on balls in the air," junior defensive back Jordan Brown said.
The Jacks were able to contain Earl last week by putting their best corner, Jordan Brown, against him.
They will not be able to do that this week, as Acklin moves all over the field.
WIU quarterback Sean McGuire has found the weakness of many of the defenses he's faced. He is the fourth-best quarterback statistically in the MVFC, but had his worst performance of the year against North Dakota State since he only managed 185 yards and a 60 percent completion rate. McGuire also was intercepted once in that game and sacked five times.
"I think the quarterback is really good and makes good decisions, he's a gamer," Stiegelmeier said.
If the Jacks defense wants to have success, they will have to pressure McGuire and force him to make bad decisions, similar to what NDSU did against him.
As a team, the Leathernecks field a running-back-by-committee, like the Jacks, as they have four rushers over the 100-yard mark this year.
WIU is allowing 242 passing yards per game, which could be something for quarterback Taryn Christion and the SDSU offense to exploit.
"That statistic surprises me when you watch their film, but any mismatch or perceived weakness we will always try to take advantage of," Stiegelmeier said.
Despite allowing the fourth most passing yards per game in the MVC, the Leathernecks secondary have made quarterbacks pay for their mistakes, as they have picked off opposing quarterbacks 12 times, which leads the conference. Junior Justin Fitzpatrick leads the defensive secondary charge for the Leathernecks with four interceptions.
Getting to the quarterback has been something the WIU Leathernecks have succeeded at, as they have 19 sacks as a team. Junior defensive lineman Khalen Saunders leads the Leathernecks defensive with five sacks this year.
"They got one really special player [Saunders]. We are going to have to slide his direction or chip him, but the issue is they play him inside sometimes. We just have to be aware of their ability and we have to block our tails off and Taryn has to be willing to throw to the running backs if things aren't working," Stiegelmeier said.
For the Jacks, this game and every game this season has to be viewed as a "must-win" situation, especially considering the hardest part of their schedule is just starting.
"We have fallen short, so our backs are kind of against the wall a little bit. At this point we want to win, but obviously we want to go 1-0 every week and that starts with Western Illinois," Christion said.