Speaker to examine ways to improve streetscapes
Getting there is half the fun.
That might be an oversimplification of a project undertaken by third-year architectural students at South Dakota State University, but it catches the project's concept. The students in the building arts capstone class studied ways to make pedestrian travel in downtown Watertown more appealing, Instructor Fang Xu explained.
He will give a summary of the work and describe the purpose of the class at the 38th-annual Victor K. Webster Phi Kappa Phi Lecture at 7 p.m. Feb. 21 in the South Dakota Art Museum auditorium.
"We want to make the walking experience more dramatic and interesting; instead of just going through those faceless places, we want to make the whole walking experience more exciting," said Xu, who is in his third year on the Department of Architecture faculty. In addition to the Watertown project, he also will provide urban design examples.
SDSU architecture students have been working with South Dakota communities since 2011 and Watertown was selected because of contact Xu had with a developer.
Xu said, "There had been talk of renovating downtown Watertown for a long time, but nothing got started." He reached out to the mayor and visited the Codington County town of 22,000 people in April 2018. Xu got a warm reception and the city provided funding for project materials and transportation as well as feeding students on their visits.
First step: Hearing from citizens
Students made three visits in fall semester 2018—once with video cameras to see the town and in October and November to make presentations.
"We wanted to extract the knowledge that people have of the place and reflect what they want," Xu said. "When we initially looked at a downtown area, we didn't know where people walk, the hot spots people go to, what they're looking at or typical routes pedestrians take.  For example, we found people use Watertown's alleys for shortcuts a lot more than we expected."
The initial presentation Oct. 10 in the Watertown City Council meeting room attracted primarily downtown building owners and representatives of Watertown Development Co.
The 14 students took feedback and returned Nov. 14 with more ideas as well as a major architectural response. Throughout the eight-square-block area, students looked at ways to use landscape architecture to provide inviting views "so it's not like you're walking in a tunnel the whole time," said Xu, citing tactics such as adjusting the location of trees and other plantings as well as varying sidewalk designs.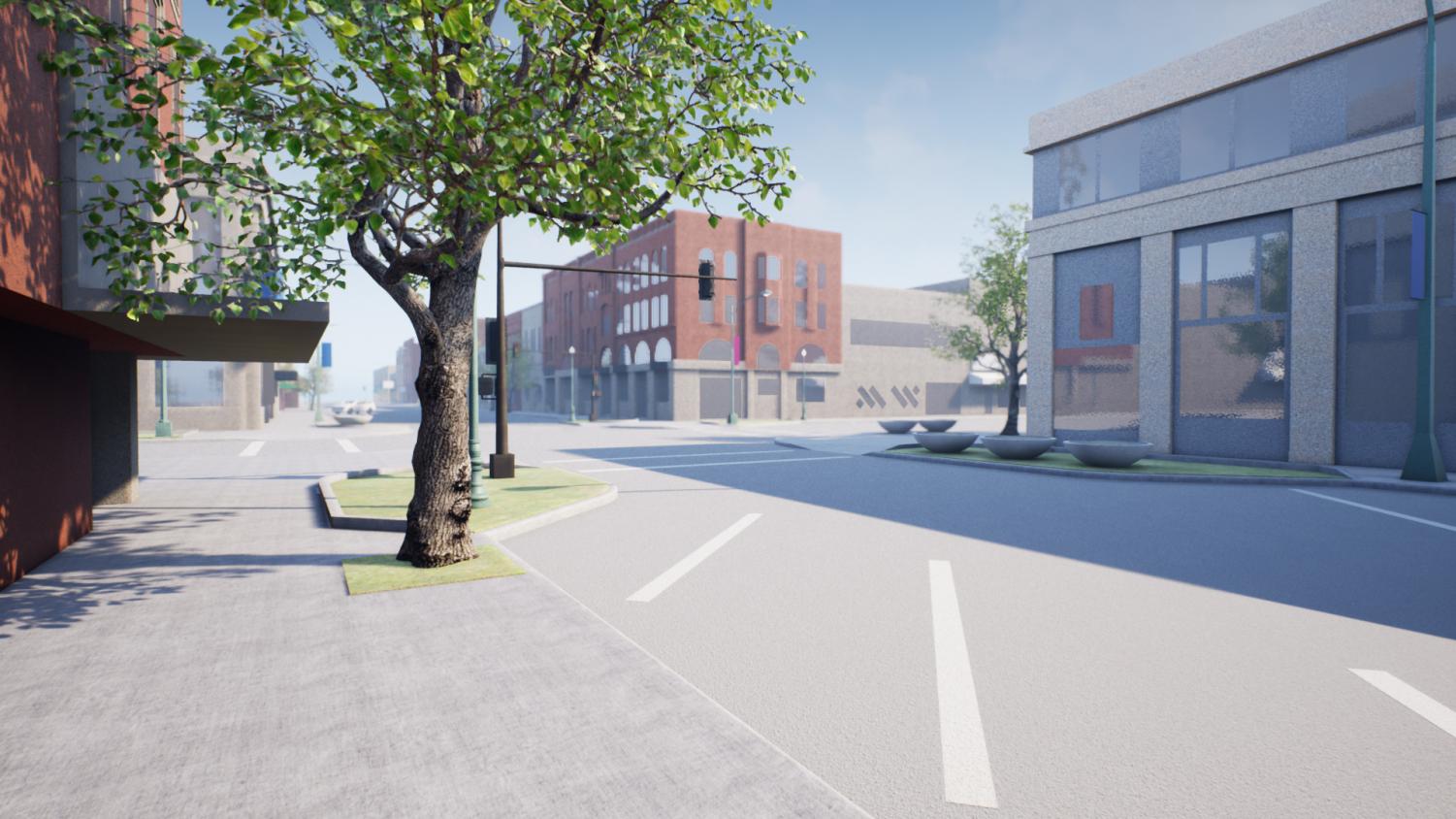 Focuses on closed store
Their major focus was 17 W. Kemp Ave., the boarded-up Unclaimed Freight Furniture store between Broadway and First streets.
Students proposed a boutique hotel and other retail development of this privately owned location. Of course, an idea is a long way from an approved project, and the students don't intend to be project architects. "Our purpose, in addition to providing a learning experience for students, is to help citizens think and have people realize they can contribute a voice," Xu said.
At the Nov. 14 session, students shared a video game that Xu created that allows viewers to experience a redesign of their downtown.
"You can change the design immediately. These kinds of things can make a big impact on how you can interact with people and the input they provide. Changing traditional architectural drawings is a process that would typically take days, if not weeks. It gives people easier access to the design ideas and a channel to convey their voice," Xu said.
Though the class ended in December, Xu plans to work with Watertown this spring to continue the momentum and share the ideas with more groups.
There is no admission charge for the lecture, which is named for the former head of the chemistry department and first president of the SDSU chapter of Phi Kappa Phi. The lecture seeks to recognize leadership, excellence in teaching, and outstanding research and/or creative activity by SDSU faculty members.
Speakers are nominated by peers and chosen by a committee of the organization's members.
Associate Professor Aaron Ragsdale, one of the lecture organizers, said,  "Xu's topic has broad appeal locally because of its work in South Dakota. His work as a scholar and teacher incorporates university students into the local community and really does encapsulate the motto of the honor society of Phi Kappa Phi, 'Let the love of learning rule humanity.'"
Xu and his students worked in Yankton in 2017 and has connected with Flandreau about a bridge project between the Indian school and the community center.