Fishback family offers $3.5 million challenge to support Honors College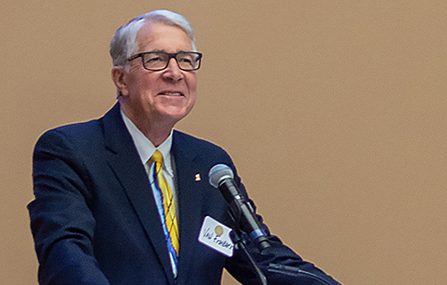 Van and Barbara Fishback, longtime benefactors of South Dakota State University and namesakes of the university's Honors College, made public Monday a $3.5 million challenge match.
It is the single-largest challenge match ever issued at SDSU. When achieved, the Van D. and Barbara B. Fishback Honors College would have $7 million in new support. Gifts made to support the strategic priorities of the Fishback Honors College by other donors will be matched by the Fishbacks on a one-to-one basis, up to $3.5 million. The Fishbacks' gift would create a $3.5 million endowment.
University leadership, students, faculty and friends gathered for Monday's announcement. It is the second transformational gift made by the Fishbacks to the college. They made a $3 million gift toward the college in 2012. In appreciation, the college was named the Van D. and Barbara B. Fishback Honors College.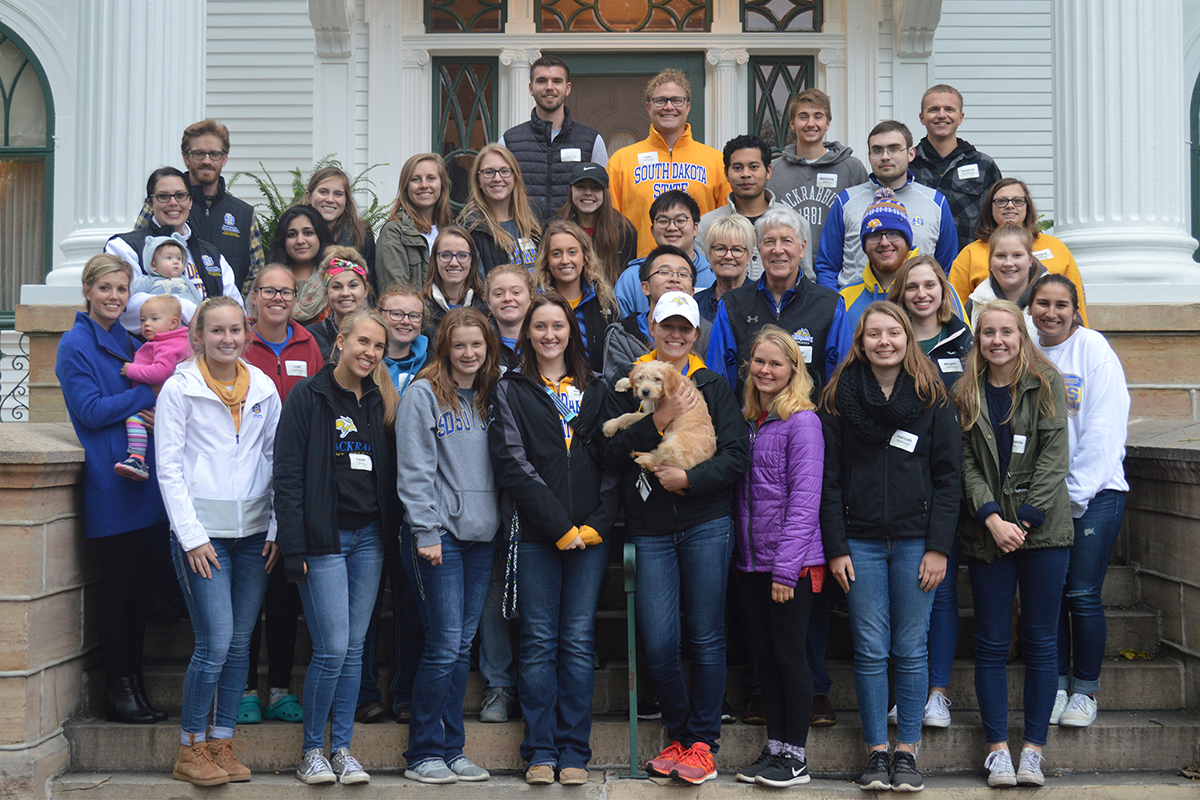 "SDSU is committed to making its honors college a national leader, and the extraordinary investment by the Fishbacks seven years ago put us on that trajectory," said Provost Dennis Hedge. "When this challenge match is met, our honors college will have the resources to reach yet another level of academic excellence through enhanced honors student services, increased student scholarship support, expanded co-curricular activities and programming that will prepare students for life after college."
There are 750 students involved with the Fishback Honors College. Its mission is to provide talented, motivated students with a personalized, engaging, distinctive academic and enrichment experience that will position them for success as lifelong learners and leaders. The Fishback Honors College serves as an engine of opportunity to elevate, enrich and enliven the overall student experience at the university.
"We are so fortunate to have Van and Barb as champions for our college," said Rebecca Bott-Knutson, dean of the Fishback Honors College. "This is an incredibly generous investment, and it speaks to their extraordinary commitment to provide our students with an honors experience that is second to none."
Van Fishback articulated very clearly why his family made their commitment to the college, "We've chosen to invest in honors to directly enhance the experience for students and faculty from every academic discipline at once. The honors team is well positioned to emerge as a national leader in collegiate honors education. They have the imagination, dedication and resolve to create premiere experiences for our students. What they need are the financial resources to turn this dream into a reality. We challenge you to join us with your own investment. Together, we will empower talented and motivated students to become the foremost leaders within their fields."
The Fishback Honors College was founded 19 years ago at SDSU and fulfills a strategically significant role in assuring that the university provides exceptional, rigorous opportunities to academically accomplished undergraduate students from across the student body pursuing their aspirations in a wide range of academic disciplines. The Fishback Honors College's relentless pursuit of quality and impact is essential to the advancement of the excellence of the university in its quest to be a premier land-grant institution.