Volleyball still in rebuilding mode
Ten years ago, the 2007 South Dakota State Volleyball team won the Summit League title after a dominating 25-11 season. That team was honored Saturday during the Jacks 3-0 loss to Fort Wayne. Since that season, the program has gone from top-of-the-league standings to the bottom cellar.
The program started its decline in 2012 when they went 16-13 and failed to make the Summit League Tournament for the second straight season. Since then, the Jacks have not had a winning season and have had an overall record of 25-116.
Phil McDaniel was fired from head coach in 2014 after the team went 5-22, which was the worst season in program history at the time.
Nicole Cirillo was hired to be the next head coach of the program in 2014. The former IUPUI associate head coach had just won the Summit League Championship with the Jaguars in 2013.
Her first three years at SDSU have not been easy.
Last year, the Jacks had their worst record in program history at 5-23. With a current record of 2-18, the Jacks continue to struggle. They have sat at the bottom of the Summit League standings for most of the season.
"So many people look at the record," Cirillo said. "But when you are rebuilding a program you have to break it down much more than that."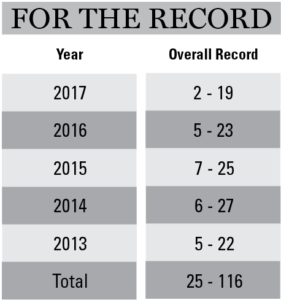 After defeating Wisconsin-Milwaukee on the road in the first match of the 2017 season, things have gone downhill the Jacks. They have lost 18 of their last 19 games and have been swept by their opponents in 14 of their 18 total losses.
Cirillo said the team has struggled to maintain success this season because they are not as mentally tough as they need to be.
"Our biggest struggle is the lack of consistency," she said. "We get too far ahead of ourselves to even attempt to be consistent right now. We talk a lot about one contact at a time, being in the moment, because I think we are so worried about what comes next."
Part of the reason the Jacks are still in rebuilding mode is because of their youth.
The Jacks have one senior, defensive specialist Ellie Benson, six freshmen and two transfers who joined the team at the start of the season.