Meet State makes college transition easy for new Jacks
Friday, August 18, 2,200 to 2,400 students were moved into their residence hall during Meet State.
Meet State assists students in getting moved in but also helps new students create relationships with volunteers and gives incoming-freshman a big welcome to campus.
Toby Uecker, the coordinator of Meet State and associate director of living-learning and outreach, said Meet State helps newcomers "make the transition to SDSU as new students."
"Today [Friday] is all about the students' physical transition to campus and our goal is to get everyone settled and comfortable," Uecker said.
Uecker credits the group of nearly 700 volunteers and their willingness to give back to the university for the yearly success of the Meet State program.
"We have a team of people up and down the administration and from all around our campus community who come together to welcome our incoming students," Uecker said. "And we are so excited that [the students] are here."
Click here to see the Collegian's Meet State move-in album.
For Zachary Baschnagel, freshman civil engineering major from Rapid City, Meet State served as a buffer for him from the stresses of moving in during a hectic first weekend at South Dakota State.
"Meet State has been really helpful so far," Baschnagel said. "They are really helpful not only in moving things into your room, but you also start to remember the names and faces of people that will be there to help you through the first few weeks of college and beyond."
Baschnagel's mother, Diana, believes Meet State makes the separation easier between students and their families.
"I think having so many friendly faces around helps to ease the transition for parents," Diana Baschnagel said.
The volunteers themselves find moving in new Jackrabbits rewarding.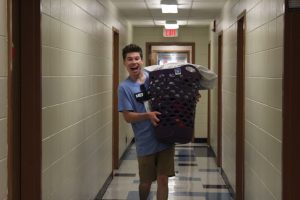 Thane Henschel, sophomore human biology major, volunteered as a member of the Honors College Student Organization. He said he enjoys the feeling of giving back to the university and assisting the new students he meets.
"We were all scared freshman once, but being here for students as they move in during a very stressful time is something I find very gratifying," Henschel said.