Dorm, sweet dorm: how new students decorate
Meet State was full of excitement and commotion while moving nearly 2,200 freshmen into their residence halls at South Dakota State University.
And after the furniture has been moved in the room and parents have said their goodbyes, new freshmen get to work decorating and organizing to make it feel like home.
Freshman history education major Hailley Ingles did this by putting up pictures of her and her mom, and hanging things her mother had painter for her.
"I decorated and set up everything pretty simple and put things up that would remind me of home…" Ingles said.
Ingles wanted to stick with neutral colors and shopped mostly at Target to decorate her room for the year.
Roommates Kaylee Hanson and Morgan Legrand also got their dorm decor at Target and also ordered furniture and decor from Amazon.
"We talked about it before moving in – who was bringing what – and then decided on the theme we wanted," Hanson said.
Legrand and Hanson met on their class' Facebook page and decided together on a theme of white, grey and succulents.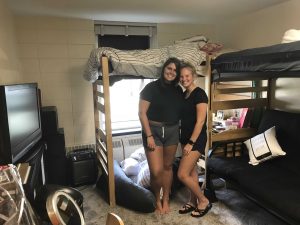 The two decorated with a succulent themed wall tapestry, a futon with white decorative pillows and a TV among other things as well.
They knew before moving in how the room was going to be organized from a video they both saw posted on the Facebook page.
Freshman Hanna Siemonsma and her roommate Molly Lange also included a futon in their room layout, which can open up the room.
The roommates did not have a theme in mind when moving in, but they noticed they both had decor that contained common pink and blue accent colors, similar to the blue footstools Lange had previously ordered on Amazon.
"We didn't really plan a theme or anything, just brought what we had and talked about who was going to bring the mini fridge and futon," Siemonsma said.
Elizabeth Stanger, freshman human biology major, took things even further and decorated based on dimensions of her room and the furniture and decor she and her roommate would be bringing.
"We just wanted to make sure everything would fit, look good and be practical before moving all the furniture around," Stanger said.
Some students have everything from the color scheme to the plants on the window sill planned out for their dorm room. While others focus on making their room similar to home during their first year at SDSU.