SDSU will travel to Hancock Stadium in Normal, IL to play the Illinois State Redbirds in a prime-time game at 6 p.m. Oct. 7. The game will be streamed on ESPN+ and on Midco Sports 2.
After starting the year 4-0, No. 1 ranked South Dakota State sets off to play the No. 22 Illinois State Redbirds, their third ranked matchup so far this season. In SDSU's last 18 games, they have defeated 10 ranked opponents.
Previously, the Jacks stomped the Redbirds in a 31-7 blowout in late November, but Illinois State is off to a hot start this season.
Illinois State
Along with six other Missouri Valley Football Conference schools, Illinois State sits at 1-0 for conference matchups (3-1 overall) and finds themselves ranked No. 22 nationally.
The Redbirds' only loss this season came in week 3 at Eastern Illinois where they came up just short in a 13-14 finish, though bouncing back against Lindenwood last week in a grewsome 48-17 victory.
Last time they played, the Jacks shut down quarterback Tommy Rittenhouse all game, but Zach Annexstad is back in control of the Redbird offense, and he has been very effective moving the ball down the field this season.
In just four games, the senior from Minnesota has thrown for nearly 1,000 yards, averaging 241.3 yards per game along with a touchdown, 38th most yards in all of the FCS. Annexstad also has 38 yards on the ground along with a score.
Mason Blakemore leads the Birds in rushing this season with 294 yards but isn't the only Illinois State back finding his feet on the ground. Two other backs, Cole Mueller and Wenkers Wright both have over 100 yards of their own. Mueller with 170 and Wright with 111 yards.
Blakemore leads the team touchdowns with five total touchdowns, all coming from their dominant ground game.
Annexstad's favorite target has undoubtedly been Daniel Sobkowicz. Currently, Sobkowicz leads the MVFC in receiving yards with 355 yards and sits 13th in the FCS, tied with Christian Fredrickson from Idaho State.
Tight end Cam Grandy and wide receiver Eddie Kasper have also been offensive threats for Illinois State this season. Both players have caught 18 passes and one touchdown, but Grandy sits at 205 receiving yards while Kasper is at 187 yards.
Defensively, Tye Niekamp leads the Redbirds with 31 total tackles while Keondre Jackson sits closely by with 26. Both players have a combined total of nine tackles for loss. Though Nebraska-Kearney transfer Amir Abdullah leads the team in that category with seven tackles for loss total out to 47 yards back. Abdullah also leads the team with 5.5 sacks on the season.
Though South Dakota State is a force to be reckoned with offensively, they aren't counting out this Redbird defense.
"They're really explosive on defense, they have great athletes," said head coach Jimmy Rogers in his weekly news conference. "Our hands will be full for sure, very kind of similar to UND. But their front is really talented."
Illinois State has two interceptions under their belt this season coming from Steven Curtis and CJ Hodgdon
South Dakota State
The 2022 FCS National Champions have shown no sign of slowing down this season. Currently, The South Dakota State Jackrabbits are No. 1 in the nation in two of the most important categories: scoring offense and scoring defense.
Now the healthiest they have been all season after getting Jadon Janke and Adam Bock, two key players on both sides of the ball back, the Jacks have their eyes set on not only the MVFC, but the FCS as a whole.
SDSU's dominant rushing attack has taken every defender they have played this season by storm. 6 foot 1 inch Isaiah Davis leads the charge from the backfield for the second season in a row with 294 rushing yards and four touchdowns on 40 attempts.
"He's special," said Rogers on Davis. "He's got a great O-line in front of him, great wide receivers and tight ends blocking for him and creating the extra yardage. If you look at the film, there is always an extra push from behind to get him those extra yards."
Though Davis isn't the only talented tailback on this roster, Amar Johnson and Angel Johnson both have racked up 200 yards of their own.
Quarterback Mark Gronowski has also proved himself on the ground this season. He currently has 78 yards on the ground and four touchdowns.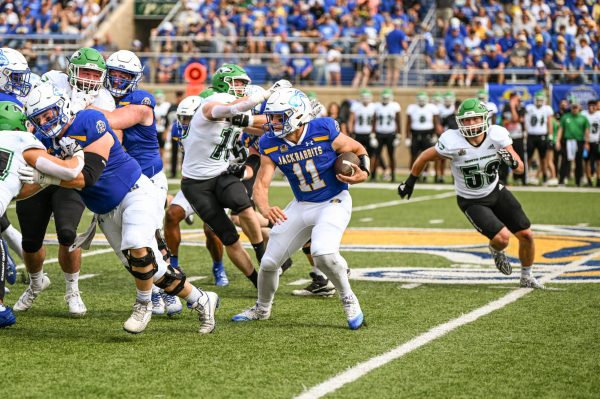 Quarterback Mark Gronowski carries the ball in the Jacks' 21-point victory over North Dakota Saturday at Dana J. Dykhouse Stadium. (Joclyn Haven)
The dual-threat quarterback has been successful in the passing attack too for the Jacks. Completing 65.82% of his throws, Gronowski has 698 passing yards along with 9 touchdowns and an interception.
After the UND game, Gronowski passed Dan Fjeldheim, SDSU quarterback from 1999-2002 for the seventh most passing yards in Jackrabbit history.
With Jadon Janke back, defenses now have four threats to watch out for in the passing attack. Jaxon Janke currently leads the team with 205 yards and two touchdowns on the season with true freshman Griffin Wilde sitting in second with 146 yards and three scores.
Tight end Zach Heins has been proving himself this season, taking up the starting tight end reigns after Tucker Kraft was drafted. Heins has two scores of his own with eight catches for 103 yards.
Saiveon Williamson has been the driving force on defense this season in the absence of star linebacker Bock. Williamson through four games has 26 tackles, 1.5 tackles for loss and a quarterback hurry.
Jason Freeman currently has 18 tackles and one tackle for a loss. Bock through just one game had 10 tackles, 1.5 tackles for loss and a sack for a loss of 8 yards.
Teams have been struggling to throw the ball on the Jacks this season, throwing four interceptions and 580 total passing yards against the No. 1 overall team in the FCS.
SDSU will host the University of Northern Iowa Oct. 14 at 2 p.m. for the Hobo Day matchup at the Dana J. Dykhouse at 2 p.m.