Student success coordinator jumps into new SDSU role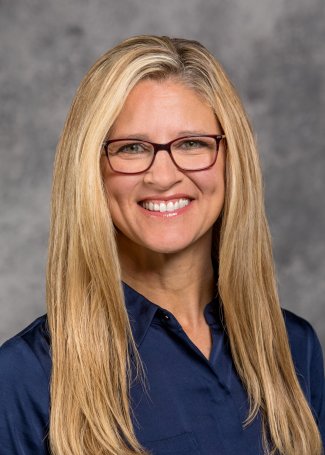 The Wintrode Student Success and Opportunity Center hired a new coordinator last month.
Tina Birgen started her new position in August, and already said she's been met with "a whirlwind of knowledge."
"But it's been fabulous," she said. "The team, everyone I have met, have been so welcoming, and everyone is so willing to assist students to be the best they can be here at SDSU."
Birgen grew up in Brentford, South Dakota, and later attended college at Northern State University, where she played collegiate volleyball and received a degree in physical education. She and her family then moved to Arizona, where she received her master's degree in educational leadership from Northern Arizona University.
Before becoming the student success coordinator, Birgen taught physical education and coached volleyball around the state, including in Aberdeen, Warner and Brookings, as well as in Arizona. She also worked as a personal trainer and wellness coach. Just before taking her current position, Birgen was the head volleyball coach and a wellness teacher at Brookings High School.
She previously worked at South Dakota State University by helping students in the Physical Education Teacher Education (PETE) Program.
Birgen said after learning about the coordinator position, she felt a "constant push" to pursue the job.
"Through a long summer interview process, I just took it one step at a time, and meeting with the team that was here at the Wintrode Student Success Center and my interviews with some of the extended partners on campus just felt perfect," she said. "It felt like a perfect match."
The coordinator for student success and opportunity "will serve as a main point of contact to help students maximize services provided through the opportunity center's NETwork offices and student success program, ConnectState," a press release from SDSU claimed.
Jody Owen, senior director of the Wintrode Student Success and Opportunity Center, said that part of Birgen's job is to meet with the offices that are a part of the center's Student Success NETwork, the program designed to facilitate teamwork between student support offices and programs on campus. 
"Through this work, she will help staff from Student Success NETwork offices get to know each other and to learn more about each other's programs," Owen said. "She will also work with staff to identify unmet student needs and areas of duplication so we can streamline our services in a way that best supports student needs."
Owen added that Birgen will help these offices enhance their use of ConnectState, which gives students and faculty reports on degree progress and communication options for advising and other resources. She will also be the first person her students contact when looking for resources on campus.
Owen said Birgen has already jumped into the role and has begun meeting with students, attending campus programs and attending events to introduce herself  to students, faculty and staff.
"She brings a lot of enthusiasm to the position and is eager to make a positive impact on student success," Owen said.
Birgen said her goals for moving forward include learning more about the campus, its programs and working to foster support for students.
"I just want our students at SDSU and our partners to know that I'm here to serve them … and their individual holistic needs, because I know that not every student here is getting served the same way because they are unique in themselves," she said.
She looks forward to engaging more with campus once she is settled into her new role.
"My biggest excitement right now is getting out and trying to meet students," Birgen said.