SDSU's Hawaiian soccer players help Jacks win in Aloha State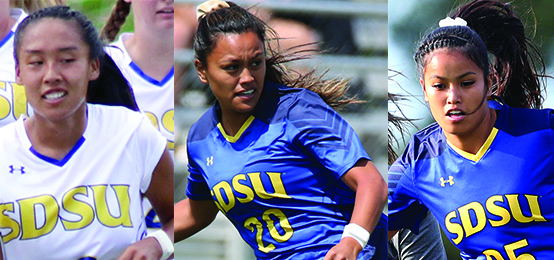 SDSU's games against Idaho State, Hawaii and Hawaii Pacific in Oahu, Hawaii this season were essentially home games for three Jackrabbit players.
Karlee and Kaycee Manding, and Teani Arakawa are all from Hawaii and they helped the Jackrabbits to three wins in their home state.
Karlee Manding is a senior midfielder. Her younger sister Kaycee is a sophomore midfielder and forward, and Arakawa is a freshman midfielder and forward.
The Manding sisters are from Waipahu, Hawaii, close to Waikiki where the team stayed. Coach Brock Thompson, said that since Karlee Manding arrived at SDSU, he wanted to give her a chance to play in her home state before she graduated.
"I grew up playing at the complex where we played our games," Karlee said. "The field is right behind my high school."
The three players all said they enjoyed playing in their home state.
"Being on home turf just felt right," Kaycee said.
No fans were allowed inside the stadium because of COVID-19 restrictions, but the Manding sisters' parents were hired to tape the games, so they were able to watch their daughters play in person, Kaycee said.
By watching from outside of the stadium, Arakawa's family was able to see her score the winning goal against Hawaii.
"I told myself that I am going to go for it and get this ball in the goal," Arakawa said. "Especially since my family was able to be there to see it."
When asked about Arakawa's goal, Karlee Manding said: "It was such a prideful moment. Beating them on their home turf was so special."
Karlee has been part of many special moments since she arrived at SDSU in 2019. Coming from a "rock in the middle of the ocean," Manding said she had to travel around a lot for soccer in high school to get exposure.
She was first noticed by SDSU by an assistant coach while playing in a tournament in Washington, Thompson said.
"After getting Karlee and seeing the impact she had as a freshman, we started to build connections with coaches and players from Hawaii," Thompson said.
When asked about the biggest culture shock when coming to South Dakota, all of the players said food.
"A lot of the food we ate as kids is not even known here," Kaycee said.
They also mentioned getting homesick, but their teammates make them feel better. The players from the Midwest often invite the Mandings and Arakawa to stay with them during holidays and long weekends.
Defender Rachel Preston said Karlee has become part of her family.
"Karlee has been able to see my home, so it was great finally being able to see her home," Preston said.
The Jackrabbits (9-1) host Western Illinois at Fishback Soccer Park Friday Oct. 1 at 6 p.m.