Gifford wins election for 99th Little I Assistant Manager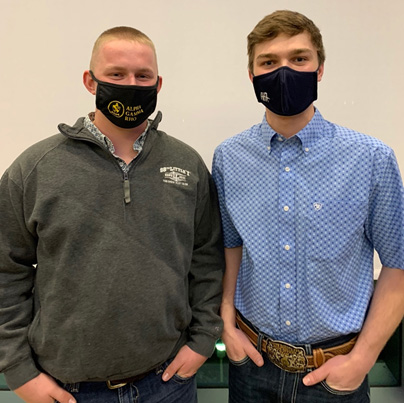 For nearly 100 years, Little International, South Dakota State University's two-day livestock event, has been led by a team of two students: the general and assistant managers.
Each year an election is held to determine the next assistant manager, who will later become the general manager. The search ended April 20 as Cody Gifford was announced as the 99th Little I assistant manager.
Gifford, a freshman precision agriculture major from Arco, Minnesota, has been participating in Little I since he was a seventh-grader competing in the FFA career development events.
He knew that he wanted to be involved on staff and was selected to serve on the General Livestock Planning Committee. His older sister, Kira Gifford, is also active in Little I and pushed him to get involved.
"I don't really do a lot on campus, but when I do, I prefer to go higher up and work harder, so I figured I'd give it a shot and apply," Gifford said.
Gifford, along with four other candidates, applied for the assistant position. Applicants had to go through an application and interview process, with interviews being held April 7. The applicants were interviewed by the 98th assistant and general managers, as well as the executive team.
"We had five very highly qualified applicants for the position that each had experiences and strengths in different areas related to Little I, the ag industry and the college of ag," Jacob Rausch, 98th Little I general manager, said, "but we had to make the decision of the two finalists."
After the interviews were completed, the managers and executive staff chose two finalists that campaigned until voting took place. Gifford was selected as a finalist and was immediately launched into the campaign period of this process, which included hanging up posters and advertisements around campus, with the help of his sister. Gifford also spoke at club meetings and worked on building personal relationships with students he talked to.
"I like to have face-to-face conversations with people and just talk," Gifford said. "I think that's the best way to communicate with people and get people to build a connection with you."
Gifford said he had the support of his fraternity, Alpha Gamma Rho, who helped him hang up posters and advocated for him around campus during his campaign period. He also had support from his friends and family who also talked to  people on campus.
Voting was held April 20 from 8 a.m. to 5 p.m. with results later announced at the Little I staff banquet.
As the assistant manager, Gifford will be watching 99th general manager Grady Gullickson as he prepares to take over as the 100th general manager the following year.
"Cody is pretty knowledgeable about Little I," Gullickson said. "Even though he's only been on staff for one year, he's definitely learned all that he could from it. When you talk to him he's calm, cool and collected, which is something that is really helpful when we get in those stressful situations and things start to heat up."
The assistant manager is in charge of a variety of tasks that consist of overseeing some committees, being the voice for Little I, selecting apparel and staff gifts, assisting the general manager and helping out in many other tasks when needed.
Although this past year looked a little different because of COVID-19 regulations, Gifford is looking forward to next year and hoping things will get back to some sense of normal.
As assistant manager, Gifford hopes to implement activities that educate exhibitors and promote Little I. He is also looking forward to bringing back more staff and alumni activities and showing the legacy of Little I at the coming centennial celebration. Education is a big aspect of Little I because it allows people who have never shown an animal before an opportunity to learn about a species, or those who have shown before to learn something new or hone their skills.
Every year there is a Round Robin competition at the end of the event where the top two showmanship finalists in their respected category compete for the overall showmanship title. Gifford would like to bring back past Round Robin winners and have a Round Robin contest spanning the decades.
"I think we should really highlight the legacy and history of this event here at SDSU," said Gifford. "It's a huge part of a lot of people, especially in the ag college."