Hobo Day scrimmage warms up team for upcoming season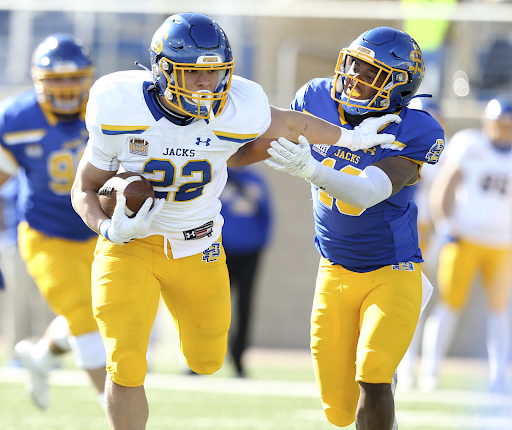 BROOKINGS – The Jackrabbit football team played its first football game in almost a year Oct. 31, a Hobo Day scrimmage that usually takes place in the spring. 
South Dakota State University's annual scrimmages typically occur in the spring, but with the football season being moved to spring 2021, the team was forced to adjust. 
SDSU split into two teams–  Blue Team and White Team– with White coming away with a 10-6 victory. Most offensive starters from last year were on White, while Blue had mostly underclassmen. 
Head coach John Stiegelmeier thought this was a good opportunity for the team to get back on the field before the start of the actual season next semester.
"I loved the format; I loved that we got into a two-minute drill at the end that made it feel like a game," Steigelmeier said. "We got plenty of great reps, impressed with some guys, disappointed with some stuff, but we get better every day around here, so I think it was a positive day." 
Stiegelmeier was mostly impressed with some of the freshmen, but disappointed with tackling and receivers dropping passes. 
Last year's starting quarterback J'Bore Gibbs did not play in the scrimmage because he is recovering from last season's injury. Keaton Heide, who took over for Gibbs last year, struggled in the game, going only 2-of-10 for 22 yards and three interceptions. 
"When I look at him today, I expect him to have his head up, and I know he's a winner, and he's a good player," Stiegelmeier said. 
True freshman running back Isaiah Davis was proven effective in the game, rushing for 39 yards on ten attempts. 
But fellow true freshman, quarterback Mark Gronowski, was the most impressive player that day, completing 13-of-28 for 134 yards and a touchdown while playing for both teams. 
"He's got pretty good composure for a freshman," said senior offensive lineman Wes Genant about Gronowski. "He's done a great job leading the offense. He was a field general out there."
Genant mentioned the offense's efforts and the team's changes going into the season. 
"We got some guys growing into some roles and had some guys go down, so we had some guys step up, and there'll be some growing pains, but overall as a whole, I think we will keep growing from this point on," he said.
The defense was the biggest story of the scrimmage. Senior linebacker Logan Backhaus was delighted with the way his defense played. 
"There were guys flying around, a lot of gang-tackling and guys around the ball," Backhaus said. "We were able to force some turnovers with guys hustling to the ball. I thought we played with a lot of energy."
Even though the scrimmage game was adjusted, players still welcomed the chance to play with an audience. Stiegelmeier talked about how weird the schedule has been for the team.  
"The summer is in December, and our guys have to be here for some of that time," Stiegelmeier said. "There is no Christmas vacation, but I think our guys embraced everything. We got a lot of winners on this football team."