Wilson emerges as next SDSU basketball star
After last season, the South Dakota State men's basketball program lost four full-time starters and its head coach, leaving Jackrabbit Nation to wonder about the team's immediate future.
First-time head coach Eric Henderson returned only one player (Alex Arians) with more than seven starts from the 24-win 2018-19 squad and had to find a way to blend a wave of new personalities on a team with a tradition of competing at the top of the Summit League.
But through all the changes and unknowns, the Jackrabbits have emerged as strong contenders to reclaim the Summit League crown, and the new face leading the charge is Douglas Wilson, an athletic forward with a flair for high-flying dunks and acrobatic finishes around the rim.
"The thing that really stands out as far as [Wilson's] leadership goes is his selflessness," said SDSU head coach Eric Henderson. "… When his teammates have success, he is the first one to celebrate them. He is so happy for his teammates — way happier than he is for himself — and when one of your better players has that attitude and approach, it is very contagious."
Wilson, a Des Moines, Iowa, native, is in his first season wearing the yellow and blue after transferring from Kirkwood Community College in Cedar Rapids, Iowa. This season, the 6-foot-7 junior is averaging 17.9 points on better than 60% shooting from the field to go along with 6.4 rebounds per game. Each of those marks ranks in the top seven of the Summit League.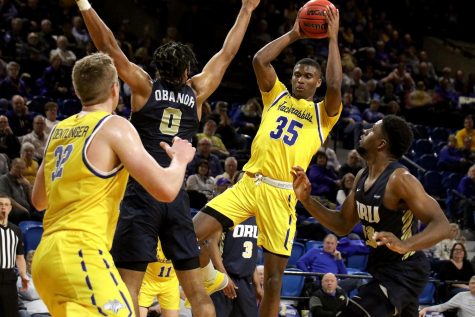 With five games to go before the 2020 Summit League Tournament, the Jackrabbits, tabbed to finish fifth in the Summit League preseason poll, are 18-8 overall and tied with defending tournament champion North Dakota State atop the conference at 9-2, and Wilson is a big reason why.
"We expected him to have an immediate impact," Henderson said. "His athleticism was going to be very helpful for our team as well as his ability to guard. The thing that surprised me the most was how much we can count on him offensively."
Being a leader in many ways isn't a surprise. Wilson was a two-time National Junior College Athletic Association Division II All-American who earned National Player of the Year honors and led Kirkwood to an NJCAA National Championship last season.
"I tried not to focus on that when I was at Kirkwood," Wilson said of the individual awards. "When I found out I got those achievements I started to feel good because I knew my hard work was paying off."
After Wilson's first season at Kirkwood, he started hearing from other colleges, but SDSU was the first school to offer him a scholarship and that really stuck with Wilson.
"When I first came into town, it didn't really catch my eye because I didn't really see much," Wilson said. "I am kind of a laid-back guy, so that didn't matter to me anyway. The first impressions were good. … I went tailgating before a football game and just seeing how involved the community was really made me happy."
One thing that made Wilson's transition a little easier was the chance to continue working with his head coach from Kirkwood.
Bryan Petersen, who was added to Henderson's staff in June 2019, was the head coach at Kirkwood for six seasons, posting a 157-38 record and winning two national titles.
"I was excited not just because he was coming here, but also to see him move on from the community college level and into Division I," Wilson said. "Just to see him do that really made me happy, but I was even happier that he was coming here with me."
During Wilson's two seasons with Petersen at Kirkwood, the team had a record of 55-10.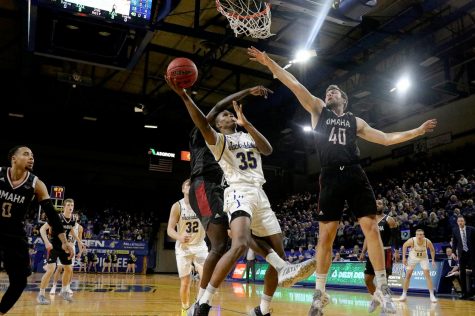 "Doug and I have a really good relationship," Petersen said. "Obviously he is a very good player, but having a good relationship with a current player on your roster kind of helps out [as a coach] and it helped bridge the gap for me with some other players as well."
Last season at Kirkwood, Wilson averaged 21 points and nearly nine rebounds per game, and though the competition is greater at the Division I level, his production hasn't seen a dramatic dip. Out of the 25 games Wilson has appeared in this season, he has scored double figures in 23 of them.
"We always knew he was going to be a good player, but we didn't know how good," Petersen said. "… His offensive game has come around so far since we first saw him. … He has always been a Division I caliber athlete, but he needed to become a more complete basketball player. How to become a D-I player, with just the demands, pressure and how you handle your day-to-day life — he was not ready for that out of high school, but he grew and kept on working towards it and obviously developed into one."
When Wilson steps on the court, most people see a level headed, focused competitor, but his coaches and teammates know there's another side to the stoic big man who has made a habit of bringing Frost Arena to its feet.
"He has a really good personality. He is pretty quiet by nature early on but once you get to know him, he is kind of a goofy kid," Petersen said. "I think he can relate to a lot of different people and teammates but off the court, he is just a pretty chill dude."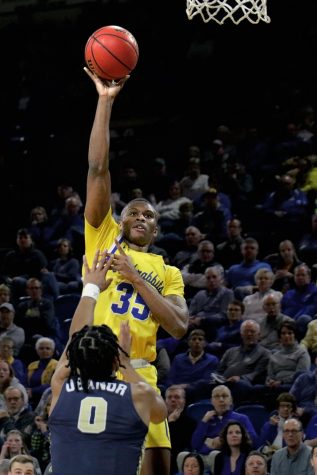 But the standout basketball player Wilson has evolved into wasn't always a foregone conclusion.
Though Wilson has family members who are accomplished athletes in their own right, he didn't start taking basketball seriously until after his freshman season of high school. Soon after, he knew he wanted to pursue his basketball and academic career at the collegiate level.
"[Basketball] runs in the family," Wilson said. "I grew up watching my aunt play a lot and she was a big reason why I wanted to play."
Wilson's aunt, Jahzinga Tracey, played collegiately at Division II Indiana University of Pennsylvania. After a standout career where Tracey finished as the school leader in several statistical categories including points, rebounds and steals, she signed with a team in Germany's top professional women's league.
So whether it be internal pressures, those brought about by having an athletic family pedigree or high praise from his coaches, expectations for the goofy, high-flying Wilson are great and continue to grow with each game.
"The sky is the limit for him," Petersen said. "I think Doug can still get a lot better in a lot of different ways. … I expect him to be a leader for our team, and I expect him to be, if not the best player, one of the best in our conference."