SDSU records pair of blow out wins over Western Illinois
Playing its second women's-men's doubleheader in three days, both South Dakota State basketball squads came out on top in both contests against Western Illinois Saturday afternoon at Frost Arena.
In the first game of Saturday's action, the SDSU women (11-6, 3-0 Summit League) turned a first half defensive battle into a 75-45 blowout win over WIU (7-9, 1-2 Summit).
"I just really like where we're at and I like that there are things we can improve on — we've overcome a lot to play good basketball," said coach Aaron Johnston said of his team's form early in the conference slate despite injuries leaving multiple key pieces unable to play.
It was the defensive end of the court where Johnston's squad played it's best basketball Saturday.
The Jackrabbits held the Fighting Leathernecks to 22.9% shooting for the game and a 9-for-37 (24.3%) mark from 3-point range. The difference for SDSU was the ability to rebound from its own first half shooting woes (33.3%) to shoot 51.9% in the second half and outscore WIU 43-24.
A Leatherneck first quarter scoreless drought lasted nearly six and a half minutes and allowed SDSU to pull out to a 17-6 lead, but neither team could muster much offensive rhythm from there as the Jacks went to the locker room up 32-21.
Then things broke loose in the third quarter.
Both teams nearly doubled their first half output, as SDSU outscored WIU 26-18 in the period.
From there it was all Jackrabbits.
It's the Jacks' third convincing win in as many Summit League contests, and with the roster not at full strength, putting together quality outings to open conference play is a welcome sight.
"A lot of people have stepped up," said sophomore forward Paiton Burckhard, who finished with 10 points and 11 rebounds. "Tonight almost everyone put points on the board, so I think that just goes to show how deep we can go."
Tagyn Larson led all scorers with 21 points to go along with seven rebounds.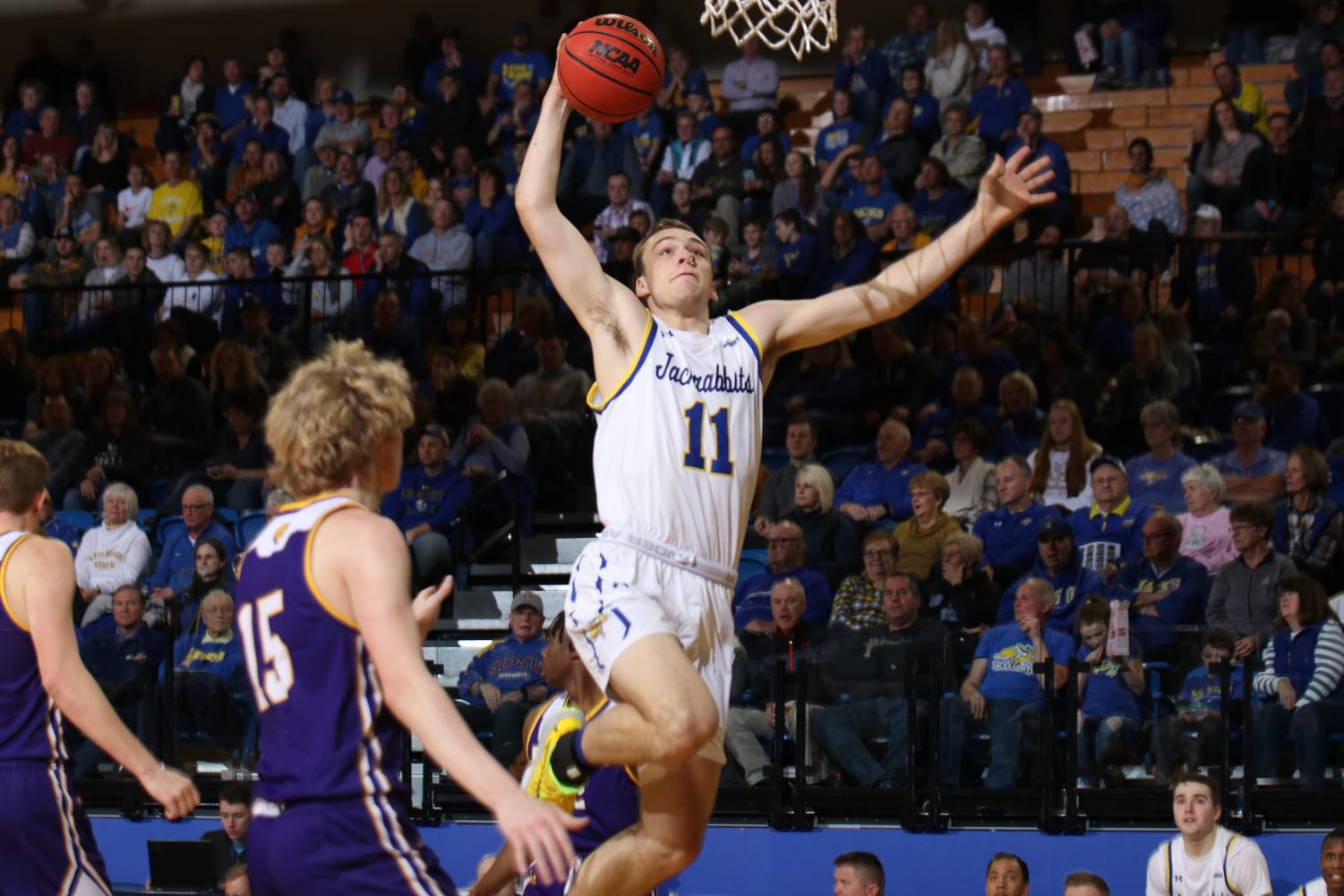 Capping the day's action, the SDSU men (11-7, 2-1 Summit) took the lead early and ran away late in a 91-56 blowout over WIU (4-9, 1-2 Summit) behind a second consecutive impressive offensive showing.
Thursday against Oral Roberts a four Jackrabbits reached double figures, but that improved Saturday.
Five Jackrabbits — Douglas Wilson, Matt Dentlinger, Alex Arians, David Wingett and Noah Freidel — scored in double digits, showing that a team that graduated its top four scorers from a season ago can still be one of the best offensive teams in the Summit League.
"We're really sharing the basketball and taking better shots," said coach Eric Henderson. "We're playing inside-out and when you do that the shooting percentages go up — that's helped our offensive efficiency, no doubt."
The Jacks shot 57.4% from the field and 47.6% from 3 — their second straight game shooting 55% and 45%, respectively.
Next up for both squads is a mid-week trip west to face the University of Denver. It'll be a chance for both the women and the men to improve upon early struggles on the road (the women are 2-3, the men are 1-7).
Tip off of the men's game is scheduled for 8 p.m. Jan. 8, with the women's game set for the same start time Jan. 9.