Williams named Chief Diversity Officer
Kas Williams, current interim director for the Office of Diversity, Inclusion, Equity and Access, has been named the chief diversity officer at South Dakota State University. Williams' announcement comes following a national search.
"Kas is a perfect fit to provide the vision and direction for inclusive initiatives at our university based on her experiences, understanding of our land-grant mission and commitment to our core values, "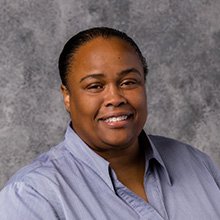 President Barry Dunn said. "A trusted leader, she is an advocate for everyone and her ability to collaborate with key stakeholders and groups internal and external to the university will only encourage a more inclusive environment that allows for greater diversity, equity and access."
Williams has served in her interim role for nearly one year. She came to SDSU in 2014 as the African-American programming and retention adviser for the Office of Multicultural Affairs, a position she continued to fill in addition to her interim role. Previous to SDSU, Williams was in residence life for six years at the Pennsylvania College of Technology from 2008-14. She was also at Southeastern Louisiana University, where she was the coordinator for the student government association for two years and the assistant director for judicial affairs from 2003-07.
"My time at SDSU has been very rewarding and I look forward to continuing the great partnerships that have developed during my time," Williams said. "SDSU is a welcoming community, but our work of not only providing support but also education to faculty, staff, students and external stakeholders on opportunities centered around diversity, inclusion and access will continue. A welcoming, inviting, supportive and accessible campus culture is paramount to our land-grant mission and we will continue to carry that work forward."
Williams earned a Bachelor of Arts degree in criminal justice from Southeastern Louisiana University. She will receive her Master of Education in administration of student affairs from South Dakota State University May 4.