Krogh named dean of Nursing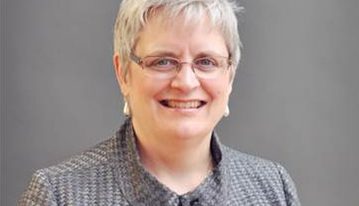 Mary Anne Krogh, current dean of nursing and health sciences at Mount Marty College in Yankton, has been named dean of South Dakota State University's College of Nursing. Krogh's appointment comes following a national search.
"Dr. Krogh's professional experiences make her an ideal candidate to lead our College of Nursing into the future," said Dennis Hedge, provost and vice president for academic affairs. "It is critical that SDSU nursing graduates continue to be leaders in the health-care industry and provide excellent patient care. Dr. Krogh's background and overall experience, combined with her strategic vision, will be tremendous assets to the college in achieving our goals."
Krogh has served as Mount Marty's dean of nursing and health sciences since June 2018. She had served as the clinical director and program director of its nurse anesthesia program since May 2011. During that time, she was promoted from assistant professor to associate professor and professor.
Before starting at Mount Marty, she was the associate director for the Minneapolis School of Anesthesia's nurse anesthesia program.
"There is a long history of excellence at SDSU in nursing and the opportunity to lead such a prestigious college is an honor," Krogh said. "My vision for the future is one that empowers people and students to meet the changes and growing opportunities in the health-care industry. We will continue to prepare future generations of nurses and hospital administrators to be leaders in South Dakota, the region and beyond."
Krogh has worked as a certified registered nurse anesthetist at Hennepin County Medical Center and North Memorial Medical Center and continues to do so with Avera McKennan Hospital. She has also taught at the Minneapolis School of Anesthesia and served as an adjunct and assistant professor at Saint Mary's University of Minnesota.
Krogh was inducted as a fellow to the American Academy of Nursing in 2015.
Krogh earned a bachelor's degree and doctorate from SDSU and her master's degree from Saint Mary's University of Minnesota.
Krogh will start her new role in July. She replaces Roberta Olson, who returned from retirement to fill the role on an interim basis following Nancy Fahrenwald's departure to Texas A&M last spring.