Outlook shows increased chance of flooding spring 2019
The March 7, 2019 flood outlook issued by the National Weather Service in Sioux Falls calls for the probability of flooding in eastern South Dakota.
"The flood risk has increased across much of South Dakota since the initial spring flood outlook was released three weeks ago," said Laura Edwards, SDSU Extension State Climatologist.
Edwards explained that the increased potential for flooding is due in large part to the wet conditions throughout eastern South Dakota in fall 2018 as well as the accumulating snowpack this winter.
"The chances for minor, moderate or major flooding are much higher than normal on most rivers and streams in the area," said David Kringen, SDSU Extension Water Resources Field Specialist. "With the wet conditions in southeast South Dakota prior to freeze-up last fall, it is unlikely that much of the snowmelt will soak into already saturated soils as spring melt begins. This could play a large role to the severity of flooding as melting begins."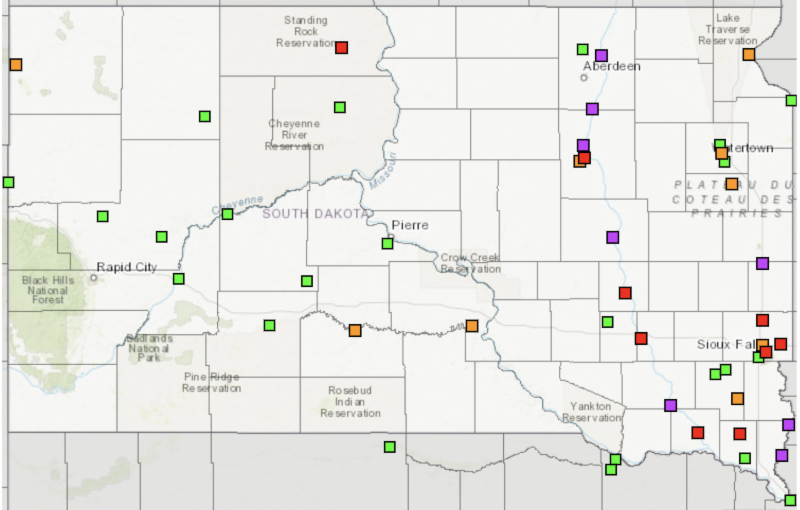 Edwards added that additional future rain and/or snow and the speed of the snowmelt will also factor into the severity of flooding this year.
"The outlook for the next couple of weeks shows high confidence in colder than average temperatures across the state. Cool temperatures will hold on to the snowpack further into the spring, which could increase the chance of flooding once the area does experience consistently warm temperatures," Edwards said.
For South Dakota, the areas with the greatest threat for major flooding include the James River and the Big Sioux River from Brookings downstream.
Based on reports, Edwards said there is a 20 percent chance of record flooding at points along the Big Sioux and Little Sioux Rivers. There is a 10 to 20 percent chance of record flooding at some points of the James River. Edwards added that it is important to note that local flooding will likely also occur in areas that are not directly adjacent to these rivers.
As of March 6, snow depths along and north of I-90 were measured at 15 to 25 inches. There were some areas, measuring as much as 30 to 40 inches in areas of east-central and northeast South Dakota and southwest Minnesota.
"When this snow melts, it could result in 2.5 to 4-inches of moisture from the snow across most of the region, and 4 to 6-inches in areas with deeper snowpack," Kringen explained.
According to the National Weather Service, frost depths remain deep – 1 to 3-feet across the area. The South Dakota Mesonet is reporting frost depths of 4 to 5-feet in northern South Dakota. The Mesonet consists of 27 locally-supported stations across the state that are maintained by South Dakota State University.
"The deep frost layer will prevent much of the snowmelt from being absorbed by the soil," Edwards said. "Thus, snowmelt will contribute to more runoff, increasing the flood potential.
Flood Preparation
The Office of Emergency Management is encouraging those concerned about flooding to purchase flood insurance now, as there is a 30-day waiting period for coverage.
This spring will be the worst flooding in eastern South Dakota since 2010 or 2011, and some homes, buildings and other property may be flooded that are often safe in lesser flood situations.
"Homeowners and others should make other preparations now in anticipation of spring snowmelt," Edwards said.
A few items to consider include:
Move snow away from buildings so that melted snow will go away from structures
Check sump pump functionality
Move items that may be on the ground level in buildings or basements that could get wet
Move livestock, if necessary, to higher ground that can still be accessed in flooding
Consider roads and bridges that may become impassable during high water and plan for other routes for travel
Check your own home and check on neighbors and family who may become housebound or stranded during high water, to ensure they have enough supplies on hand, including food, water, fuel and medications.
To keep abreast of current conditions, visit the National Weather Service 2019 Spring Flood Outlook website here.