Changing it up with Danny Brown's "uknowhatimsayin¿"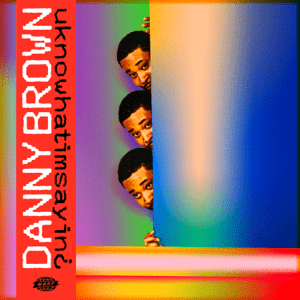 In Danny Brown's "uknowhatimsayin¿," Brown puts a positive spin on his dark and troubled thoughts.
Rapper Danny Brown has released challenging music throughout his career. From his initially off-putting voice and unsettling lyrics to the often grimy and industrial-tinged instrumentals, his music could very easily scare off new listeners. 
While some of these aspects carried over to "uknowhatimsayin¿", the instrumentals are generally more accessible to the mainstream listener and his traditionally disturbing lyrics have been given a more positive twist throughout the album.
While these darker lyrics are still prevalent in the album, throughout are hints of uplifting messages. On songs such as "Change Up" and "Best Life," he raps about troubling events that he has experienced and uses them as a reason to keep going. Many of the lyrics discuss pushing through hardships.
In contrast, are several songs that have only the strange and unsettling lyrics that fans of Brown have likely come to expect. This includes songs like "Dirty Laundry," detailing Brown's intimate experiences, as well as "Savage Nomad" and "Combat," which both discuss gang violence.
Brown's voice and style have always set him apart from other artists. This album shows that he has not lost this touch. He often gives words an extra syllable or intentionally mispronounces them to fit rhymes and rhythms, which gives his music character and individuality. 
The instrumentals throughout the album are also unique among Brown's work. Many songs are hectic and heavily layered with strange instruments and sound effects, but among these are songs that are much calmer and more melodic than most of Brown's discography. 
While the contrast between these types of instrumentals could feel inconsistent, the tracks flow together extremely well and the slower tracks give variety to the album without conflicting with the more frantic tracks. 
Every track sounds intentionally placed and the thematic similarities in terms of lyrics and instruments give the album consistency.
While Danny Brown's established personality carries through to this project, "uknowhatimsayin¿" is a more accessible album in Brown's discography and is a good album for new listeners. 
Overall, this album is a solid output from Danny Brown and continues to be as personal as ever, while showing Brown's experimentation with new sounds and concepts that make this a worthwhile listen for fans and newcomers alike.
Favorite tracks: "Best Life," "uknowhatimsayin¿," "Combat"