A look at BROCKHAMPTON's latest album, GINGER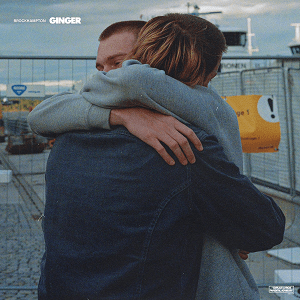 Adam Foss, Lifestyles Reporter
September 10, 2019
BROCKHAMPTON, the self-proclaimed "best boy band since One Direction," released melancholic and emotional "GINGER" Aug. 23, 2019.
Nearly every track has somber instrumentals with lyrics covering deep topics such as loss, depression, anxiety and the struggle the members went through in their youths. This is where the album shines. The weakest tracks seem to be the songs where the group is trying to have fun.
The strongest aspect of the album is the lyrics. Many of the tracks delve deep into the psyche of the members. Songs such as "Sugar," "If You Pray Right" and "Dearly Departed" are very personal songs; the latter, specifically, may be lyrically the strongest song on the album. It discusses in detail the effects that the actions of former member Ameer Van had on the rest of the group. It is a very telling track and easily one of the highest quality tracks on the album.
While all of the members of the group bring great lines to the table, Kevin Abstract and Dom McLennon are noticeably stronger lyricists. The gap in quality between those two and the rest of the members has become increasingly prevalent as BROCKHAMPTON's discography grows.
I noticed that between this album and the group's previous release, I found myself constantly looking forward to when Joba, Matt Champion, Merlyn Wood and Bearface wrap up their verses so I can hear more from McLennon and Abstract.
The songs on "GINGER" in which the lyrics stray away from more personal topics, such as "St. Percy," come off as fillers.
None of the members of BROCKHAMPTON seem interested in what they're talking about on these tracks. This is interesting considering these are the tracks that seem like the band is trying to have fun. Instead of feeling fun, however, they feel forced and awkward on an album consisting of mostly poignant and intimate lyrics.
All of the instrumentals, as expected on a BROCKHAMPTON album, are fantastic.
This has always been a very strong aspect of the group since their first album, "Saturation," and this continues to be true on "GINGER." A standout track in instrumentals is the song "If You Pray Right." Throughout most of the song, the track has a catchy, fun, low-key instrumental that completely shifts toward the end of the song into a sample of the song "Walk With Jesus" by Otis G. Johnson. This sample thematically ties in with the track, and although it changes the mood of the entire song, it works perfectly.
Overall, "GINGER" is another strong output in BROCKHAMPTON's impressively strong discography. Though some of the performances by four of the six members seem to be cheesy and overall comparatively weak next to the strength of Abstract and McLennon, this album is enjoyable if you're looking for something with fun and clever instrumentals backing somber and personal lyrics.
Favorite tracks: "Sugar," "If You Pray Right," "Dearly Departed" and "Victor Roberts."