Men hold perfect home record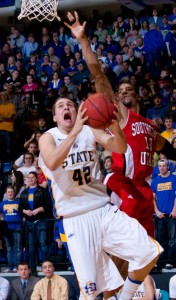 For the first time in a long time, SDSU was challenged at home.
They accepted the challenge by battling Southern Utah and pulled away to pick up a 66-56 win against the Thunderbirds in Summit League play on Saturday, Feb. 4, in Brookings.
"We haven't had too many close games at home so I think this was good for us," Nate Wolters said. Wolters recorded his fourth 30-point game this year with 31 against Southern Utah. It also marked the fourth time this season that he won the conference's player of the week award for his work over the weekend. He capped his performance with an 11 of 13 performance at the free throw line.
Southern Utah controlled the bulk of the first half's pace by holding the ball in the half-court and bottling up the Jackrabbits' chances to run. The margin was close but SDSU picked up the halftime advantage when Wolters finished off a three-point play with 0.4 seconds left before the break, putting the Jackrabbits (19-6, 11-2) ahead, 28-25. That would be the fewest points SDSU has scored in a home game all year.
"These are the kinds of games that are tournament games that you're going to have to grind it out in the half court," Jacks head coach Scott Nagy said.
The T-Birds (12-12, 7-7 Summit) gave the Jackrabbits all that they could handle in the second session and the arena sounded more like a mausoleum until Griffan Callahan drilled a three-pointer with just under 15 minutes to go, putting the Jacks ahead 34-33. Minutes later, Callahan hit another three-pointer and was fouled post-shot, giving the Jackrabbits the ball again. Wolters responded for yet another three-point play to complete a six-point swing, putting SDSU up for good at 42-38.
"I thought that this was a better win for us than the ORU win. They played well and they were a lot more physical than we were," Nagy said. SDSU reached 19 wins, equaling the number of wins they had a year ago and establishing a Division I-high for the Jackrabbits.
The Jackrabbits got their biggest boost from Marcus Heemstra, the 6'9" sophomore who tallied a career-high nine points and helped the Jackrabbits when Tony Fiegen and Chad White found foul trouble. Griffan Callahan added 10 points for the Jackrabbits, who remain undefeated at home, running their record to 10-0 in Brookings this season.
Off its closest home win since the season opener Nov. 12 against Western Michigan, SDSU returns to the road next Thursday to take on in-state rival USD in Vermillion.
"It's going to be different down there for sure," Nagy said. "We know that game won't be anything like the game here and I'll be interested to see how our kids respond to that game in terms of how it's going to be down there."