SDSU beats ORU, controls Summit race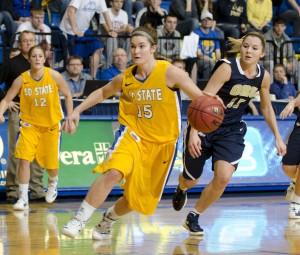 The first half was less than impressive, but the Jackrabbits proved they are the top team in the Summit League by going on a 19-2 run and never looking back, en route to a 70-51 win over Oral Roberts Monday night at Frost Arena.
"That was a big win for us. We haven't beat them in the regular season for a couple of years. We lost a close one down at their place. To be ready to go tonight, it took us a few minutes to get things going," Jill Young said.
That was apparent by the Jacks struggles with ORU's full court pressure, leading to 14 turnovers in the first half. Outside of that, SDSU outplayed the Golden Eagles in the first half but only a had a three-point lead to show for it at halftime. SDSU opened the second half with their big run and put the game away for good.
Young led the way for the Jacks, picking up a double-double with 19 points and 10 rebounds, followed by Jennie Sunnarborg with 18 points and 8 boards. Young and Sunnarborg, both seniors, were the only players in double figures for the Jacks.
The Jacks also held Summit League all-time leading scorer Kevi Luper to nine points, the first time she has been kept out of double digits this season since the Jan. 14 game against IUPUI.
"Very very strange. 48 hours ago [on Feb. 4], she probably had the cleanest, most efficient, easiest 41 (points) anyone will ever have. It was almost too easy," Oral Roberts head coach Jerry Finkbeiner said. "I thought she had open shots but she didn't make them, and then she got frustrated which is not typical Kevi Luper. That hurt us. That really hurt us."
Up next for the Jacks is a tough two game road games against UMKC and USD on Feb. 11 and Feb. 13, respectively. Head coach Aaron Johnston said these two games will now get their due attention now that this game is in the rear view mirror.
"Now the biggest game is Kansas City, then it will be USD, and I think anyone that has been around our team knows that we will always take that approach." Johnston said.