A winning formula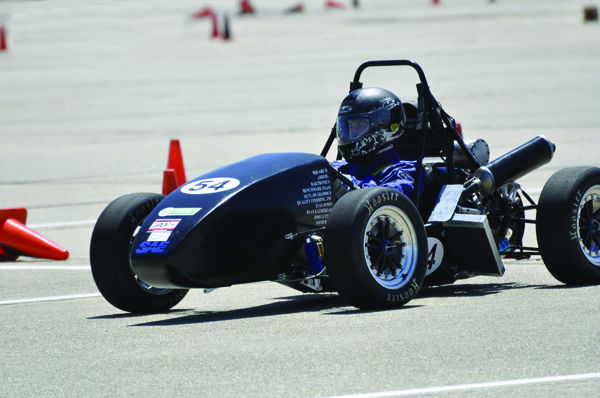 Nick Lowrey Editor-in-Chief
April 17, 2013
The high-pitched whirring of a lathe mingled with the sharp striking of a hammer on a metal punch, and the sounds of classic rock poured out of the door when it opened. The noise collided with the smell of engine oil, grease, dust, and both horse and cow manure. Inside, a group of about eight engineering students were hard at work assembling what was to become a small formula-style racecar. 
Wild Hare Racing, as SDSU's Formula SAE team is known, is housed in an old corrugated steel building in the northwest corner of campus, just a few feet from the horse barn and a few hundred more from the university's cow/calf unit. Wild Hare takes up a corner of the building every spring as the team assembles its car, which must be built from scratch each year. 
This year, according to lead engineer John Langholz — who has been a member of the team since he was a freshman — Wild Hare could very well find itself one of the top 10 teams at this year's Formula SAE competition in Lincoln, Neb. on June 19-22. That would be no small accomplishment, given that some of the 85 teams who competed last year included engineering students from schools ranging from the ivy leagues to Japan.  
"It really is just plain fun," Langholz said. "It's an extreme sense of reward."
For the members of Wild Hare, building the car is less about the competition and more about the chance to build a high-performance racing machine — something nearly all of them have always had an interest in. 
"I've always loved cars," said team member Jason Lehman. "Growing up I've always been interested in how they work … so it's kind of fun to be able to come in and build one from the ground up."
Still, the competition is an undeniable thrill. And while building a car is fun, the reward of seeing hard work put into action is what keeps many team members — like Lehman, who leads the frame and suspension team — coming back for more each year.
"It's fulfillment, it's excitement, anxiousness — it's a little bit of panic, there's always something that you're running around for," Lehman said. "But it's rewarding because you get to see the results of what you've been working for eight months on."
That, according to both Langholz and Lehman, is what brings team members to the shop on evenings and weekends, and even after the school year is over.
"It's a steady year's worth of work for four days of competition," Langholz said.
Building a racecar is not by any means cheap. Langholz said the car typically costs between $30,000 and $50,000 by the time it's finished. According to Wild Hare business manager Ryan Hoium, those costs are paid, in several ways. The three biggest financial sources are ethanol manufacturer POET, the SDSU Engineering Department and SDSU students. Manufacturers like Daktronics and Twin City Fan contribute as well.
"Those are kind of our big ones," Hoium said. "We have a bunch of other miscellaneous sponsors too." 
The team's largest single financial sponsor, POET, requires that the car run on E-85 fuel, which adds an additional challenge — though it's a welcome challenge, Langholz said.
"I kind of like the fuel," Langholz said.
Some sponsors don't contribute money at all. Instead, they supply or build parts at cost and sometimes for free. This year's car will include an air intake system that the team designed and was 3D printed by a company called Midwest Composites in Hartland, Wis.
"It allows more freedom of design," Langholz said. "They were literally able to print out a part."
The benefits for Wild Hare Racing team members go far beyond playing with engine parts and motor oil. The reputation of the now more than 30-year-old Society of Automotive Engineers competition has gained over the years rubs off on the competitors. Even some team members' schoolwork is impacted. 
"There's three of us in a computational aerodynamics class," Lehman said. "And we're working on doing a 3D model … so we're trying to analyze what's going on with the air as it flows over the car."
The members of Wild Hare are often able to apply their coursework to hands-on experience. That experience can come in handy when looking for a job after graduation.
"I'm not only learning electrical," said freshman electrical team member Ayrton Kuzela, who helped build and break down the costs of the car's electrical system. "When I go to a job site, I can say I know the business side, too." 
The car itself is not exactly destined for a racetrack. The competition this year in Lincoln, Neb., is instead to determine whether the car could be turned into an affordable production racecar that most Americans could afford to buy. That's the idea behind SAE International's Formula SAE competition. Not to determine which team has the best driver or fastest car, but to determine which team built the best, most economically viable racer.
"It's to kind of level the playing field a bit," Lehman said.
Competition is really a set of field trials to determine first if the car meets set of required specifications, like limited noise, braking and cockpit size. The car is also subjected to an endurance test to ensure it could survive long races. 
Another wrinkle in the competition is the business side. Every team must account for the entire cost of building its car, down to the smallest nuts and bolts. The team must then present a business report which is designed to determine whether the car is cost effective. 
"You look at it as a fictitious company," Hoium said. "And you have to indicate how many employees you're going to employ, what's their pay and what sort of facilities you're going to use. It's really what it would it take to make this real." 
Despite the competition and the reward of seeing the car in action, for Langholz, building Wild Hare's car is less about competition and cars and more about the challenge that building a racecar presents.
"When you get in there," Langholz said, "it's really the engineering that gets you."