Brookings area under winter weather advisory, classes continue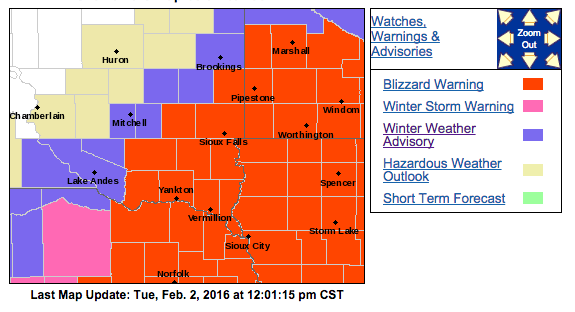 Sara Bertsch Editor-in-Chief
February 2, 2016
Brookings area is under a winter weather advisory until midnight tonight.
Students were notified by the Safety and Security office that conditions are expected to be difficult south and east of Brookings.
Visibility will be limited due to the falling and blowing snow, as wind is expected to pick up this afternoon.
There is an expected amount of two to four inches of snow along with winds of 25 to 25 miles per hour. Visibility will drop below one mile at times, especially in open and rural areas according to the National Weather Service.
In Sioux Falls, there has been no travel advised by the Sioux Falls Police Department until snowfall and winds subside. At 11 a.m., visibility was near zero.
Part of I-29 is closed from Tea Exit 73 to the Iowa border.
For travel updates, students, faculty and Brookings residents can call 511.
The Safety and Security offices advise students and faculty to use caution as they travel as roads and sidewalks may be slippery.
All SDSU classes and activities will continue as scheduled.
There will be a parking ban on campus from 2 a.m. to 5 a.m. so parking lots and sidewalks can be cleared.