Athlete of the week: EMILY DONNAY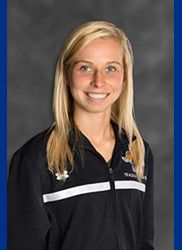 ANDREW HOLTAN Sports Editor
November 2, 2016
This week's Collegian Sports Athlete of the week is Emily Donnay. 
While the Jacks women's cross-country team were unable to win the Summit League Championship as a team, Donnay was able to win the race Saturday in Macomb, Illinois. This was her third top-ten finish this season. 
She has led SDSU in three of their races this season and has come in first place in two races. The Jacks will be back in action Nov. 11 in the NCAA Midwest Regional in Iowa City, Iowa. 
Year: Sophomore
Hometown: Kimball, Minnesota
Major: Athletic Training
Honors: Donnay was named to the All-Summit League for the 2015-16 indoor track and field season and the Second Team All-Summit League in 2015. She was also named Summit League Athlete of the Week twice.