Students pass by a statue of his likeness every day.
His influence in fundraising for the South Dakota State University Foundation has been felt by the university's faculty and students for years.
On Oct. 13, David Blegen, the model for Weary Will, received a Distinguished Alumnus award for Distinguished Service to SDSU for his work with the Foundation and his commitment to Hobo Day traditions.
Blegen served on the Foundation's Budget and Finance Committee for 13 years, working to ensure the university could operate within its budget.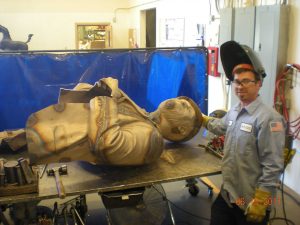 "I've enjoyed my work with the Foundation and it's given me an opportunity to get back involved with the university and it's given me a chance to get together with people I haven't seen for years," Blegen said. "So I've found it a satisfying way to give back really."
Blegen graduated from South Dakota State in 1964 with a bachelor's degree in mechanical engineering. He began working in business management and financial planning for IBM the year he graduated and Pemstar in 2007.
Blegen said he took his experience at IBM and Pemstar and put it to use when he joined the Foundation's Budget and Finance Committee in 2003. Blegen became chair of the committee in 2011. He also served on the Foundation's Council of Trustees from 2011 to 2016.
"He's got a very tough exterior, but a soft heart for the Foundation and for SDSU and especially for Hobo Day," said Steven Erpenbach, president and CEO of the SDSU Foundation. "He has a very sharp business sense and he asked a lot of tough, but good questions."
Blegen said he was most inspired by the potential scholarships and new buildings his work could provide that would help fund education and housing for students at the university.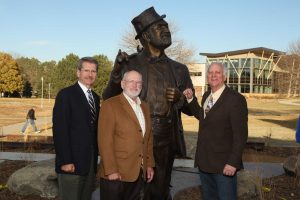 Blegen served as the model for the Weary Will statue outside the Union. He was approached for the opportunity by David Anderson, who served on the Hobo Day Committee when Blegen was Grand Pooba in 1963. David Anderson is now a retired agricultural research scientist, formerly working for Eli Lilly and Company, a pharmaceutical company.
The two met reconnected in 2011 when Anderson was on the Foundation's Council of Trustees and was creating the statues of Weary Wil and Dirty Lil as part of the Hobo Day Gallery expansion in the Student Union.
"I thought it would be nice to have a connection to a real person with the statue," Anderson said. "David really distinguished himself as someone with endearing loyalty to the university. Hobo Day was such a big part of his life. I thought it was a nice way to have a nice story as a part of the sculpture."
Anderson said that Blegen "played the most important role" in the group that came together to create the Hobo Day Gallery. According to Anderson, Blegen was closely involved in fundraising for the gallery.
It is Blegen who is also credited with coining the term "hobo by choice," which appears on a button on the Dirty Lil statue. This term came about when Blegen and Anderson were creating the statues together.
"We were working at that, trying to make sure that our hobos were not hobos of desperation," Blegen said. "Hobos are a little different from bums. They were back in the Depression times: honest people, riding the country for work."
Blegen said he was eager to bring Hobo Day presence back to the university with the Hobo Day Gallery expansion.
Erpenbach said while Blegen is reluctant to take praise, he gave his likeness in modeling for the statue of Weary Wil and is in elite company for his work raising funds for the university.
"I know I couldn't be happier with or prouder of the work that he's done for the Foundation," Erpenbach said.