A new school year is upon us and the time for showing off our style is here. Although it is the fall semester, autumn and its cool weather will not arrive for a while. Do not fret though, there are many ways to make a summer wardrobe campus-ready.
Shorts can still be a possibility
It is too soon to say goodbye to our favorite denim shorts, but are they too short to wear to class? The answer to that question is not necessarily. A simple fix for shorts that may seem a little on the short side is throwing on a long line, lightweight cardigan or kimono. This will help give more coverage to the backside and make the pair of shorts more appropriate.
Make it casual with a pair of trendy sneakers
Campus fashion has a lovely sense of casualness to it. One trick to dressing an outfit down is adding a pair of casual sneakers. For example, pairing a summer dress with a fresh pair of white sneakers will remove the formality of the dress and create a stylish and casual outfit for class. Plus, sneakers make walking around campus all day much more comfortable.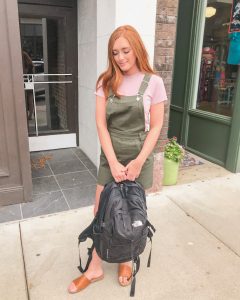 Layering can be the solution
It is possible to wear the summer dresses, tanks with thin straps or low-necklines that we all love. One way to do this is by layering a soft T-shirt or graphic tee under these items. This not only provides additional coverage, but it is very trendy at the moment. Another way to make spaghetti strap pieces campus friendly would be throwing a classic denim jacket over the top.
Keep it comfy and fashionable
Comfort is key when it comes to class. Leggings and a T-shirt is a hard outfit to resist most days, but there are still ways to be comfortable in a more put together fashion. A comfortable, yet stylish, outfit option would be pairing a high-waisted skirt with a cropped sweatshirt or T-shirt and sneakers.
Know bad hair days happen sometimes
Let's be honest. There are days when hair has a mind of its own and does not want to cooperate, especially on the days when we wake up late or the humidity is out of control. Always having a stylish hat or hair scarf will help conceal messy hair and add lovely character to an outfit.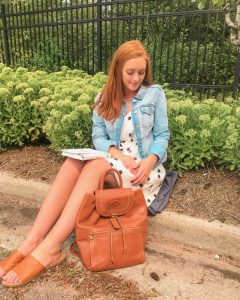 Acknowledge cool mornings and classrooms
We all know those days in the beginning of the school year when it is chilly in the morning and a sauna by noon. In that case, wearing a dress with a light sweater layered over the top is always a good choice. This makes for a fashionable outfit and permits the option to remove the sweater layer when it gets hot throughout the day. We are also all aware of how classrooms can be rather cool with the air conditioning turned up in the beginning weeks of school. In anticipation that classrooms are chilly, it is a good idea to keep a light-weight second layer in your backpack.
Just because the fall semester is here, doesn't mean we have to pack away our favorite summer fashions. These are only a few tips on how to make summer items appropriate for campus, but there are truly an endless number of ways to do it using creativity and personal style.