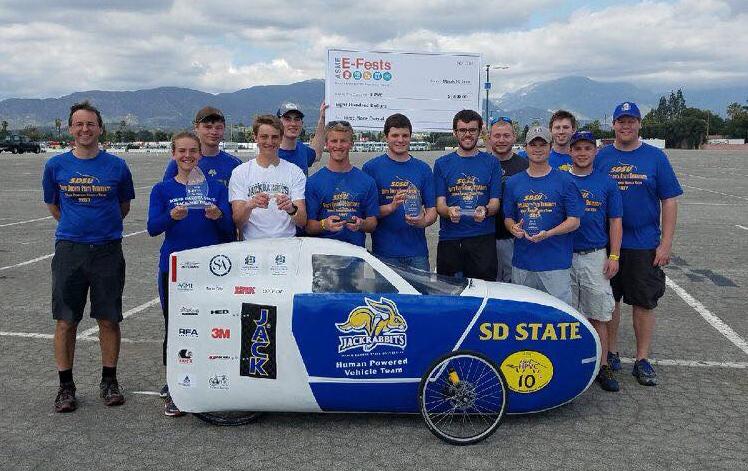 UNIVERSITY MARKETING AND COMMUNICATIONS
PRESS RELEASE
Building on last year's success, a team of South Dakota State University engineering students built and rode a better bike than anyone else at a national contest in Pomona, California.
The mechanical engineering students entered the Human Powered Vehicle Competition sponsored by the American Society of Mechanical Engineers at its E-Fest event March 23-25. The students, advised by associate professor Greg Michna, placed in the top three in each category and handily won the overall title.
SDSU scored 90 out of a possible 100 points to win the 16-team competition. The second-place team, California State University, Northridge, had 81 points.
In two contests last year, the SDSU team placed third in the Western United States contest and second in the Eastern United States contest, which had been the school's top performance. Michna said this year's entry, FlapJack, moved to the top of the field because of improvements in innovation. Each entry must have a designated engineering innovation.
Last year's runner-up entry was ninth in innovation. This year's team won the innovation category for the introduction of braking flaps.
The flaps are microprocessor-triggered louvers on the back sides of the pedal-powered race car. The flaps create drag, reducing the amount of braking time, Michna said. As a result, FlapJack could better handle the hairpin turns, quick turns and slalom maneuvering on the 1.5-kilometer course on the parking lot at Fairplex, home to Los Angeles County Fair.
In advance of the E-Fest event April 13-14 at Penn State, the SDSU students will tweak the levers so they can also be used for ventilation, Michna said.
The body of the FlapJack is composed of carbon fiber composite with a shrinkwrap windshield and windows. While it is aerodynamically sound and weighs only 12 pounds, the cabin does get rather hot, especially during the 2 ½-hour endurance contest, Michna said. The endurance contest requires multiple riders with at least one male and one female rider.
Athletic engineers ride FlapJack
Eric Looyenga, a mechanical engineering senior from Webster, captains this year's team. He joined as a freshman, the first year for SDSU to compete.
He put together a stacked team: Anna Fasen, a sophomore middle distance runner on the track; Alex Gray, an experienced endurance bicycle racer and a member of last year's race team; and Evan Fick, a freshman distance runner on the track and field team. They completed 31 laps, one shy of the 32 laps completed by Cal-State Northridge, winner of the endurance competition.
In addition to covering the territory, the entries had to stop, pick up a package and deliver it five times during the contest, Michna said.
SDSU's average speed was 11.6 miles per hour. CSUN's average speed was 11.9 mph.
In the 250-meter sprint competition, teams establish a qualifying time and then face off in a double-elimination bracket. Fasen won the women's division, covering the distance in 27 seconds. It took a total of seven races for the men's champion to be determined. Cole Sullivan, a senior who was on last year's team, Looyenga and Gray took turns in bringing SDSU to a second-place finish. Their winning time was 24 seconds.
A 'pretty awesome' announcement
SDSU finished third in design, which includes review of their process paper submitted in advance and a presentation made at the contest. That was the first day.
Sprints were the second day. "After that day we realized we had a very, very good chance of winning the overall title," Looyenga said. "We knew going into the endurance race how well we needed to do. After finishing second, we had a pretty good idea we had won. When they announced it, it wasn't a surprise; but it was still pretty awesome."
For Looyenga, it was both joy and relief. "There was a lot more pressure all year long because of how well last year's team did," he said.
However, he added the team was confident in FlapJack's design and innovation. The core builders—Looyenga, Gray, Sullivan, Jason Scheffert and Josh Zwinger, the primary mechanic and welder—had put in countless hours in the mechanical engineering lab. Also, the riders had spent time on the Wellness Center bikes to prepare their bodies.
Students also place in speech contest
Michna said the victory made the 1,700-mile trip home a lot shorter. "They did a lot of hard work. They work really well together as a team. They started with the design and contacting sponsors as soon as school began," Michna said, noting the cost of travel exceeds the $3,500 cost of constructing the bike from scratch.
A team of 12 students participated in the Human Powered Vehicle Competition but 20 students are involved in the project.
In addition, three students competed in the Old Guard Oral Presentation, a 15-minute speech and five-minute question session on students' undergraduate research project. The contest is sponsored by retired ASME members.
Claire Eggleston, of Bloomington, Minnesota, placed second while Christian Hogan, of Harrisburg, placed third. Both are seniors.